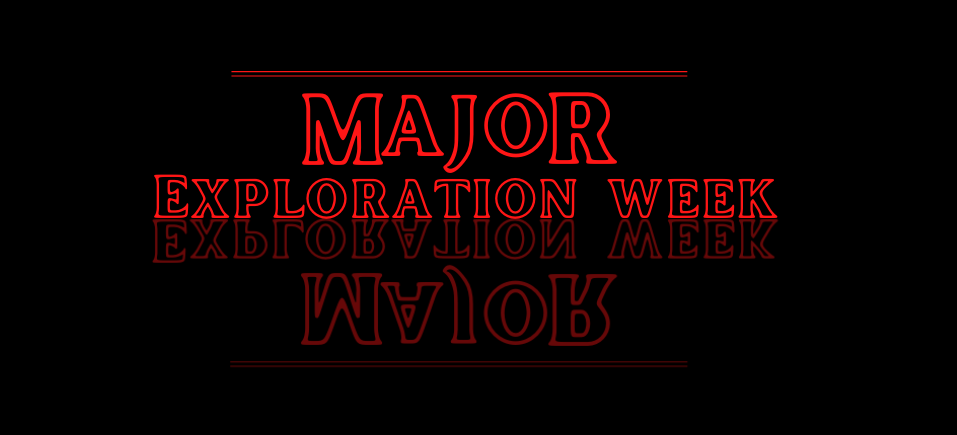 Major Exploration Week:
October 3 – October 7, 2022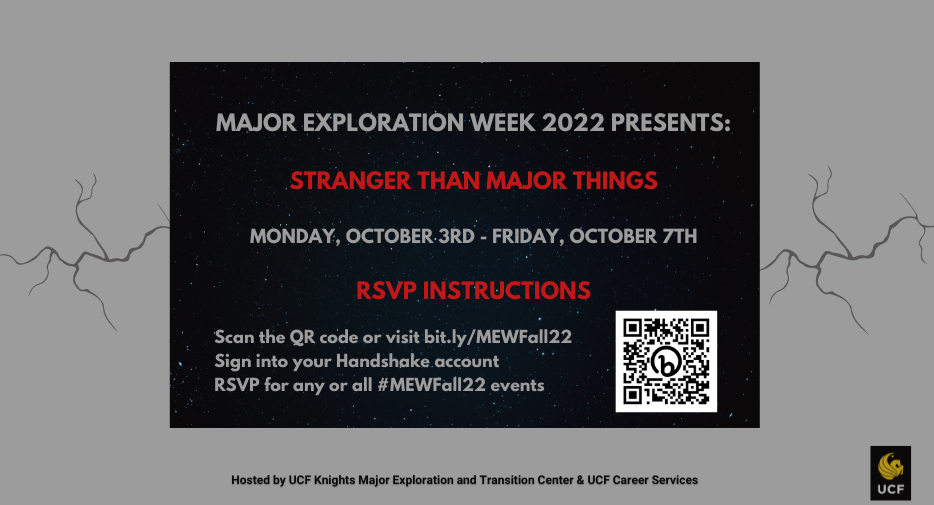 About Major Exploration Week
Feeling stuck in the UPSIDE DOWN? Does major exploration seem like a Dungeon & Dragons session, with surprises lurking around every corner? It's not that scary – There are definitely STRANGER THINGS than choosing a major!
Major Exploration Week:
October 3 – October 7
Join Us! Explore colleges, campus departments, and academic student organizations in one place!
---
"Stranger than Major Things" Kickoff Resource Fair
October 3rd | Student Union, Pegasus Ballroom
Doors open @ 10:30am | Event from 11:00am-1:00pm
Join Us!
Explore colleges, campus departments, and academic student organizations in one place!
Come early when doors open at 10:30am to take a major/career assessment in the Upside Down Major Exploration Lab! Use your assessment results to navigate the resource fair and other major exploration events throughout the week.
Major Exploration Week will continue between October 3rd through October 7th with workshops and activities to help you explore your major and discover career options.
Registration opens September 12th. Find all Major Exploration Week workshops and activities on the Handshake Events webpage – Search #MEWFall22 and sign-up to attend!
Hosted by the Knights Major Exploration and Transition Center and Career Services
Why attend Major Exploration Week?
All undergraduate students are encouraged to attend this event! There are many benefits to attending especially if you are:
Considering a possible major change
Currently Undeclared and need help deciding on a major
Interested in learning more about available campus resources
Interested in connecting with staff from your college/department
Curious to learn about minors and/or certificates
Event Participation
Students may participate in all sessions of interest.
All sessions will be posted on Handshake. Students are encouraged to RSVP in advance. After RSVPing, you will receive a confirmation email that contains information about the sessions you plan to attend, and how to join each session during Major Exploration Week.
Preparing for Major Exploration Week
Before Major Exploration Week
Identify which sessions you plan to attend. Don't forget to RSVP! Mark off enough time on your personal calendar to attend each session and be sure to set a reminder ahead of time.
There are a variety of major exploration resources to help you get started. Start by completing a self-exploration assessment to identify your goals, skills, and areas of interest.
Review the list of majors offered at UCF. Click on each major that interests you and read its description. Keep track of the majors that interest you most. Narrow your list to the majors you would most like to learn more about during Major Exploration Week.
During Major Exploration Week
Prepare a list of questions to ask. Click the button below to reveal a list of sample questions to help get you started.
What are the required courses for this major?
Is there a minimum GPA required to be accepted into the major?
What jobs do UCF graduates obtain with this degree?
Will a bachelor's degree in this major prepare me for a job in this field, or will I need to pursue a graduate degree?
What would I learn about when studying this major?
Do I need to declare the major before I can take these courses?
Does this major require that I complete a minor?
What are some examples of internships, research opportunities and/or clubs that are associated with this major? Where can I find more information about them?
Interested in FREE SCHOLARSHIP MONEY? Consider applying for the Major Exploration Week Scholarship. Applications for scholarships will open on the first day of Major Exploration Week.
Invite a friend along and shout us out of social media using the hashtag: #MEWFall22
After Major Exploration Week
Schedule an appointment with your academic advisor to discuss your major and your course options moving forward.
If you are still unsure about your major and want to continue exploring your options, schedule an appointment with an advisor in the Knights Major Exploration and Transition Center (407-823-3165).
Ask your advisor to help you run a "What If audit" report to determine how your courses will count in a different major.
Declare your major/minor when you are ready.
Check out these additional Helpful Resources:
List of College Advising Offices
How-to Guide: Major change
Take additional assessments as needed
Scholarship
The Major Exploration Week Scholarship was established to acknowledge UCF students who attend and participate in various activities during the week. Two $1,000 scholarships will be awarded.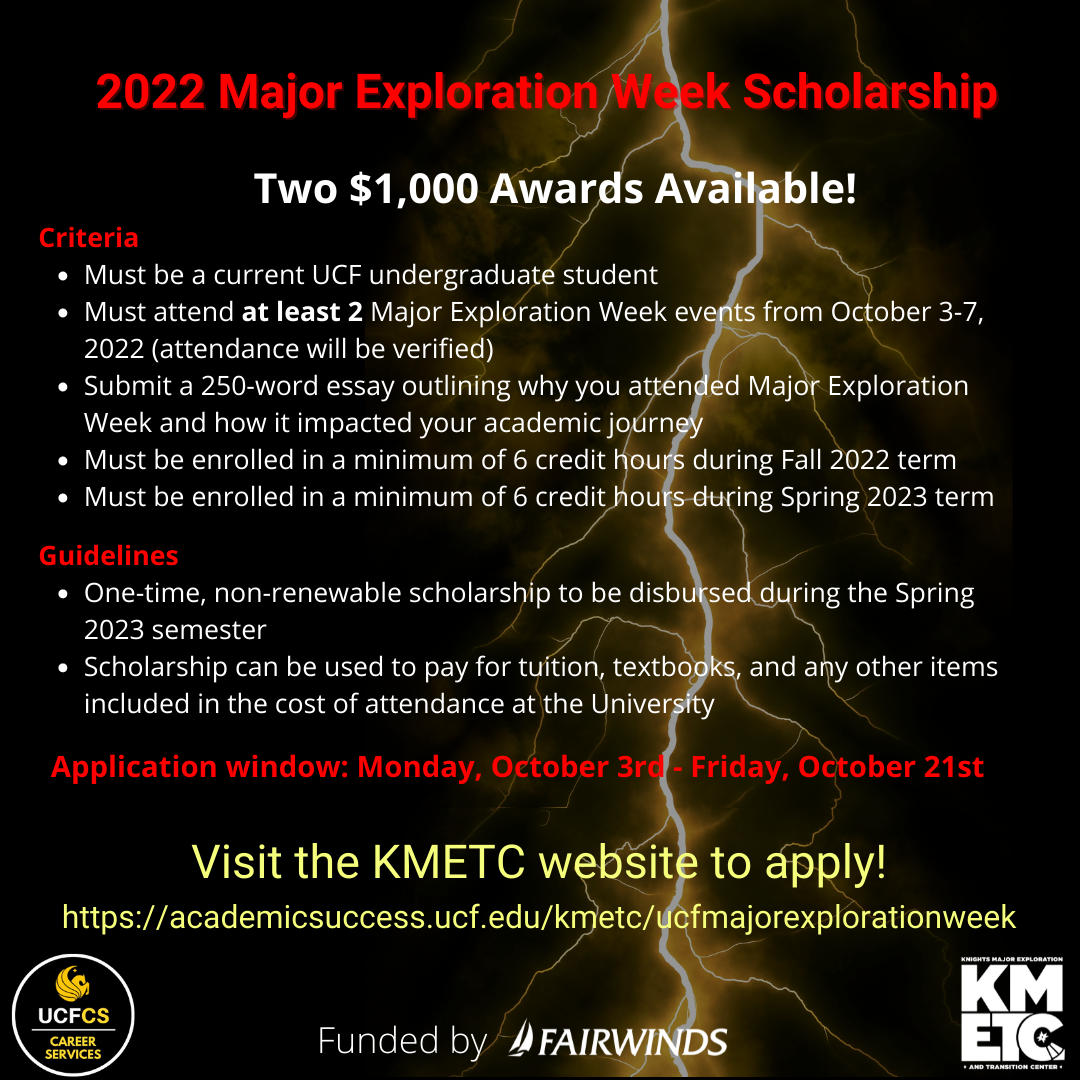 Schedule of Events
Visit Handshake to register for the sessions below. Registration is recommended and space at in-person events is limited.
Upside Down Major Exploration Lab

Take a major/career assessment and use your results to navigate the resource fair and other major exploration events throughout the week.

Hosted by Career Services
Student Union, Pegasus Ballroom

Major Exploration Week Kick-Off Resource Fair

Speak with colleges, departments, and academic RSOs about their resources and opportunities for all students (whether you have a declared major or not) at UCF.

Hosted by Knights Major Exploration & Transition Center and Career Services
Student Union, Pegasus Ballroom

Career & Technical Education B.S. Virtual Open House

Speak with colleges, departments, and academic RSOs about their resources and opportunities for all students (whether you have a declared major or not) at UCF.

Hosted by Knights Major Exploration & Transition Center and Career Services
Student Union, Pegasus Ballroom
School of Public Administration Info Session: Undergraduate Programs

Review undergraduate majors and minors within the School of Public Administration.

Hosted by School of Public Administration
SU 224

KMETC Major Exploration Info Session

Join the Knights Major Exploration and Transition Center for an overview of their major exploration resources and to reflect on your own major exploration journey.

Hosted by Knights Major Exploration and Transition Center
SU 224

Why Psychology?

Psychological Society's second public general body meeting discussing the major and its multiple applications, as well as opportunities for both graduate and non-graduate seeking students in terms of jobs, internships, and skill development.

Hosted by Psychological Society
SU 218C
Nicholson School of Communication & Media Drop-In Advising

NSCM advisors will provide drop-in advising by phone and Zoom to answer questions about NSCM majors and upcoming registration. Students should call 407-823-2681 to join the drop-in advising session.

Hosted by Nicholson School of Communication & Media
Virtual

Don't Be Frozen in Time

Learn about the free academic support services the Student Academic Resource Center (SARC) offers and how to manage your time to be successful.

Hosted by Student Academic Resource Center
SU 224

Nicholson School of Communication & Media Drop-In Advising

NSCM advisors will provide drop-in advising by phone and Zoom to answer questions about NSCM majors and upcoming registration. Students should call 407-823-2681 to join the drop-in advising session.

Hosted by Nicholson School of Communication & Media
Virtual

General Body Meeting for Association of Pre-Physician Assistants

APPA will host a physician assistant speaker, share what APPA is about and how to get involved.

Hosted by Association of Pre-Physician Assistants
Location TBD
"Helping" Major Info Session

KMETC will overview UCF majors ideal for students interested in helping people.

* Undecided Nursing students may use this info session to satisfy their 1-hour Major Exploration Program advising appointment requirement.

Hosted by Knights Major Exploration and Transition Center
Virtual

Exploring the IDS B.A. – Diversity Studies Leadership Track

Come learn more about Interdisciplinary Studies' newest track, where students have the opportunity to create a unique curriculum around science, social behavior, and humanities, while foregrounding the importance of analyses with a focus on diversity and inclusion in such categories as race, ethnicity, gender, sexuality, religion, and ability.

Hosted by Interdisciplinary Studies
TCH 226

PeerKnights Coaching 101: Your Academic Success Partner

Meet our PeerKnights Coaches. Discover how they can help you succeed in and out of the classroom and learn about specialty coaching.

Hosted by PeerKnights Coaching
Virtual

Introductory Programming

A workshop opportunity for students to explore basic programming concepts and leave with a fun project.

Hosted by Knight Hacks
BA1 147
KMETC Major Exploration Walk-Ins

Did you attend Major Exploration Week sessions but still have major exploration questions? Chat with a major exploration advisor in-person or virtually to dive a little deeper into your own experience and how to proceed.

Hosted by Knights Major Exploration and Transition Center
TCH 133 and Virtual

Get Started in Undergraduate Research

Are you interested in learning more about research? Not sure where to start or how to navigate all the programs available? This workshop will discuss how to expand your academic experience through undergraduate research, including how to get started by finding a faculty mentor. This session is open to all majors.

Hosted by Office of Undergraduate Research
Virtual