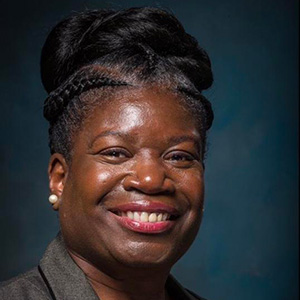 Dr. Theodorea Regina Berry serves as UCF's Vice Provost for Student Learning and Academic Success and Dean of the College of Undergraduate Studies. She spearheads efforts to offer students in her college robust programs while supporting university-wide initiatives to advance undergraduate education, take learning beyond the classroom, and promote greater student academic success. Additionally, Dr. Berry leads DirectConnect to UCF, a nationally recognized transfer program that guarantees admission to students who have earned an associate degree or articulated degree from one of six partner state colleges.
Dr. Berry joins the University of Central Florida after serving as Professor and Chair, Department of African American Studies in the College of Social Sciences at San Jose State University. Prior to this appointment, Dr. Berry served as Associate Dean of Academic Affairs and Director, Graduate Recruitment and Engagement in The Graduate School at The University of Texas at San Antonio. Prior to her appointment to the Graduate School, Dr. Berry served as Director of the African American Studies Program (2014-2016) and the Graduate Advisor of Record for the PhD in Interdisciplinary Learning and Teaching program (2014-2016).
Upon completion of her degree, Theodorea Berry completed a three-year postdoctoral research fellowship at the University of Illinois at Chicago awarded by the American Educational Research Association (AERA). Dr. Berry's scholarship is centered in curriculum studies/curriculum theory, critical race feminism, and qualitative research methodology (auto-ethnography, ethnography, historical/archival, and narrative). Dr. Berry's research appears in such journals as the Review of Educational Research, International Journal of Qualitative Studies in Education, Journal of Curriculum Theorizing, Race, Ethnicity, and Education, Journal of Educational Foundations, and Urban Review. Dr. Berry has published books and numerous book chapters; she is lead editor of Latinx Curriculum Theorizing (Lexington Books, 2019) and lead editor and contributing author of From Oppression to Grace: Women of Color and their Dilemmas Within the Academy (Stylus Publishing, 2006) as well as author of States of Grace: Counterstories of a Black Woman in the Academy (Peter Lang, 2018). She is also co-editor of The Evolving Significance of Race in Education: Living, Learning, and Teaching (with Sherick Hughes, Peter Lang, 2012).
Additionally, Theodorea Regina Berry completed a Scholar-in-Residence appointment at the University of North Carolina at Chapel Hill June 1 – August 1, 2016.
Dr. Theodorea Berry is the recipient of the 2021 recipient of the William H. Watkins Award from the Society of Professor of Education for her work in theoretical scholar-activism in education and the 2014 Critics Choice Award from the American Educational Studies Association for her work as co-editor and contributing author of The Evolving Significance of Race: Living, Learning, and Teaching (2012, Peter Lang, with Sherick Hughes). She was inducted into the Professors of Curriculum Honorary Society in April 2016. In June 2016, Dr. Berry received the Derrick Bell Legacy Award from the Critical Race Studies in Education Association as a leading scholar in the field of critical race theory.
Dr. Berry has served as Factotum, Professor of Curriculum Honorary Society (2018-2020) and Secretary of Division B (Curriculum) (2018-2020) for the American Educational Research Association (AERA). She is also founding senior co-editor of the International Journal of Curriculum and Social Justice.
As an active member of the community, Dr. Theodorea Regina Berry is a member of the Florida Diversity Council and a Diamond Life member of Delta Sigma Theta Sorority, Inc. She also serves as a cantor in her home parish, St. Andrews Catholic Community in Orlando, Florida.