Virtual Advising Appointments – Schedule via phone
Effective 03/18/2020, the KMETC team will begin working remotely. During this time, online appointment scheduling has been turned off. KMETC advisors are still available to support and assist students through virtual advising appointments. To schedule an appointment, call KMETC at 407/823-3165. All other inquiries should be directed to kmetc@ucf.edu.
Please continue to monitor your knights e-mail account for updates from KMETC and the university and please exercise good judgment and stay safe.
myKnight STAR
Make a scheduled appointment online through myKnight STAR on your myUCF portal now. View our video or text guide below for assistance with the online scheduling process.
Step-by-Step Tutorial
Access your myUCF Portal
Log in to your myUCF portal using your NID and NID password to access your Student Self Service menu.
Access myKnight STAR
Click on the myKnight STAR link in the Student Self Service menu.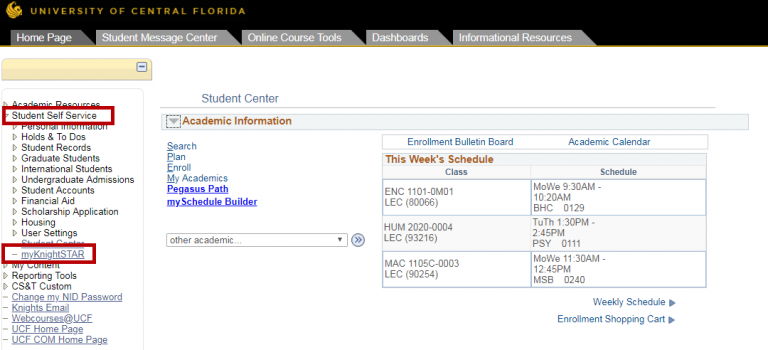 Click the "Get Assistance" Button
From the myKnight STAR home screen click on the "Get Assistance" button to begin scheduling an academic advising appointment.

Select an Appointment Purpose
Select Advising as the type of appointment and Knights Major Exploration and Transition Center (KMETC). From the list of KMETC Services, select the option that best describes the purpose of your appointment. For standard appointments, select the KMETC – Appointment option.

Confirm Location and Select Advisor
Select the main office location for the Knights Major Exploration and Transition Center.

View Available Appointment Dates
When you find the date you would like to schedule, click on the morning or afternoon block to view a drop-down menu of available times. Use the arrow to advance weeks or go back.

Select Appointment Date & Time
After choosing a morning or afternoon block, select a specific time slot. Click next when ready to schedule.
Confirm Appointment
Confirm the appointment details. Select your preferred method for the appointment reminder (update phone number if needed). Click on "Confirm Appointment" to complete the scheduling process.