Future diplomat Isabella Castro '22 sees diversity and first-hand experience as the keys to harmony and understanding between people and nations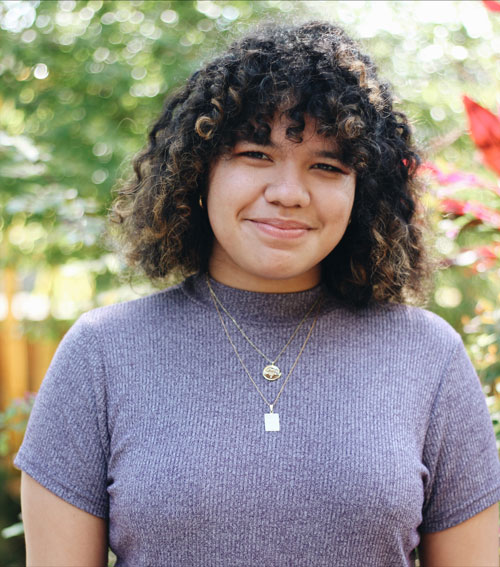 Isabella Castro '22 picked an interesting time to pursue a career as a diplomat. Soon it will be Castro's job to keep tabs on iconoclastic world leaders, global health crises and every other foreign affairs development in between. So, she might be forgiven for taking the summer off to catch her breath. Instead, Castro will be heading to Belgium, the epicenter of efforts to address the latest international calamity, Russia's invasion of Ukraine.
"I'll be in Brussels for nine months teaching English to university students," says Castro. "Belgium is home to NATO and many European Union institutions, so I'm hoping to get some first-hand insight into European politics and foreign policy. That will be really interesting, especially during this crisis."
Castro graduated with a B.A. degree in International and Global Studies and minors in Diplomacy and French, will be participating in the prestigious Fulbright English Teaching Assistant (ETA) program. ETAs, as awardees of the program are called, assist local English teachers while serving as cultural ambassadors for the U.S.
"As an ETA, I won't just be teaching these students English, I'll be connecting them with students in America," explains Castro. "The goal is to give the students a view on what university life is like here versus over there."
That kind of cultural exchange is what inspired Castro to pursue a career in foreign service in the first place. Her Peruvian mom and Argentinian dad met in the U.S. after both emigrated here to find work. They settled in Miami, where Castro was born. Sadly, Castro's father passed away when she was young. But living in South Florida allowed her mom to find comfort in the familiar while she came to grips with her new reality.
"For as long as I can remember, it's just been my mom and me. So, walking through life with her and seeing her adapt to American culture taught me just how important cultural exchange is," explains Castro. "With such a large Hispanic population, Miami provides Hispanic people with a place they can feel at home while they assimilate American values and ideals."
That cultural exchange impacted her as well, exposing the American-born Castro to her Latin American roots in ways that wouldn't have been possible in most other cities. Her faith in the power of cultural exchange was reinforced on the numerous service trips Castro took abroad during high school.
"Cultural diplomacy is so important because a lot of the second- and third-hand information we get about other cultures is distorted, appropriated or just plain wrong," says Castro. "Those service trips showed me that the only way to really understand another culture is through person-to-person contact, and we just don't get enough of that. That realization shaped my career goals."
Having decided on a career, Castro needed to figure out how she was going to get there. In UCF, she saw echoes of what she observed growing up with her mom in Miami. UCF was a place where she could learn new things while being surrounded by the reassuring warmth of her heritage.
"When I was applying to schools, I really loved that UCF was an Hispanic-serving institution," explains Castro. "I loved the diversity and the fact that they cater to their students so well despite being such a big school."
One example that Castro highlights is the McNair Scholars program, which helps underrepresented, low-income and first-generation college students who intend to pursue doctoral degrees. Although it is a federal program, UCF has been lauded for its administration of the program at the school. Since 2003, 94% of McNair Scholars at UCF have gone on to enroll in grad school.
"The community I've built through the McNair Scholars program at UCF has been instrumental in getting me to where I am today," says Castro. "My cohort is so diverse, but one thing we have in common is that we have all had to fight for opportunity. There were so many times I was ready to settle for the moon when I had shot for the stars. But my cohort and Michael [Aldarondo-Jeffries, program director] were so insistent that I keep fighting for what I wanted."
One of those metaphorical stars that Castro reached was the Rangel Graduate Fellowship. The Rangel Program awards 45 students with fellowships of up to $42,000 per year for two years to help cover the cost of grad school. Rangel Fellows are guaranteed a position in foreign service with the U.S. State Department once they complete their Master's Degree. Castro is over the moon about earning the Rangel Fellowship, but is quick to reiterate that she couldn't have gotten where she is without a strong support system.
"First and foremost, I couldn't have achieved any of this without my mom. She has always been my biggest supporter," explains Castro. "Here at UCF, Doctor Barbara Kinsey and Doctor Bruce Wilson at the UCF School of Politics, Security and International Affairs, as well as Doctor Tyler Fisher from the Burnett Honors College, have been incredible mentors. I'm really grateful for the support I've gotten from my family and friends."
Not long after Castro returns from her stint in Belgium, she will set off once again, this time to grad school. She's already been accepted to at least eight prestigious schools and is still weighing her options on that front. As was the case with her selection of UCF four years ago, diversity will play a big role in her decision.
"Multicultural voices are really important in the international relations fields, and different perspectives are really crucial in learning how best to further foreign policy," explains Castro. "So, one of the biggest things I'm looking for in a graduate school is diversity and inclusivity."
When it comes to where in the world she wants to be stationed as a diplomat, Castro shows uncharacteristic uncertainty.
"My passion has always been Latin America. There's so much cultural wealth there and I'm just in love with the culture and the people," she says. "But I also love Africa and Western Europe. So, I'll have to decide."