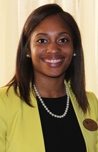 When you first meet Nina Leonard, her passion for helping
students succeed shines through. It's no wonder that she was selected as the
recipient of the Pegasus Advisor Award. This annual recognition honors an
advisor who champions student success. CECS Advising Director Kim Small
nominated Leonard.
Leonard is an advisor in the College of Engineering and
Computer Science (CECS) and works with the college's students, faculty, and
staff. She coordinates orientation and open houses, manages the BS-MS Program, oversees
the scholarship process, and leads efforts to integrate the Pegasus Path into
the academic planning process for engineering and computer science majors. In
the past, she managed the CECS Academic Alert and CECS Academic Probation
programs.
"Nina strives for excellence in her advising
responsibilities," said Small. "She is a true asset to our college
and UCF. Our college is fortunate to have Nina as part of our team."
What's your favorite part of your job?
On my gosh, it's working with students! I remember a
first-time college student who had a lot of accelerated credits. She was
nervous about starting college. I was a little worried about her beginning
upper-level courses during her first semester. We met each semester to talk
about her classes and plan to graduation. She ended up staying at UCF to pursue
a master's degree. It was fulfilling to see how her confidence increased and
watch her academic career unfold. When she graduated, she brought me a card to
thank me. Advising this student is a highlight of my career.
What's a typical day as an advisor?
Every day is different. It always includes guiding CECS
students to develop a plan for their future and make sure they stay on track. I
love that I see a student's entire degree progressionI help students to
understand the university's policies and degree requirements. I assist students
with schedule planning, course selection, and navigating the many resources UCF
has to offer. I link them with resources to increase academic success &
employability after graduation.
Sometimes, students have difficulties completing degree
requirements. How do advisors help them get back on track?
It begins with building relationships with students.
Advising goes beyond selecting classes. It's making sure that they know about
available resources, such as the Pegasus Path and the Student Academic Resource
Center. You also have to be willing to have those tough conversations.
I led the CECS Early Alert Program that identifies students
who are struggling and are at risk of extending their time to graduation or, in
the worst case, leaving UCF. We work with the student to determine if the
course load or the major is not right. Or, it might be time to refer them to
the Student Academic Resource Center for tutoring or to the Knights Major
Exploration and Transition Center to meet with an advisor who can help them
select a degree program that aligns with their talents and future plans.
What advice would you give to advisors?
Some days can be hard, especially when you're having tough
conversations with students. We need to give ourselves grace and make sure to
recharge. It will make us better advisors. We need to show students that we're
invested in their success. At the same time, let them know that they own their
education.
What do you do in your spare time?
Spend time with my family. My husband Cameron is an Academic
Advisor for the Rosen College of Hospitality Management at UCF. We have a
three-year-old son and a daughter who's two. It's been interesting during the
pandemic. I love watching them come up with new games and participate in
hobbies that I like, such as Sudoku. I sometimes wonder what colleges they'll
attend, what careers they'll choose, and hope they'll meet an advisor who will
help them achieve their dreams.