Find out more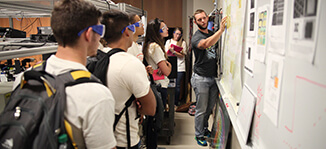 A program that invites science, technology, engineering, mathematics, and social science students to become a part of a supportive learning community.
F-L.E.A.R.N. is for students entering UCF from high school.
T-L.E.A.R.N. is for students entering UCF from a state/community college.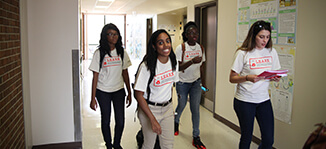 To be eligible, students must be incoming freshman or transferring from a state college, who will start in summer or fall and major in one of the following disciplines:
Engineering and Computer Science
Science (Anthropology, Biology, Chemistry, Biomedical Sciences, Biotechnology, Math, Physics, Forensic Science, Psychology, Sociology, and Statistics)
Optics and Photonics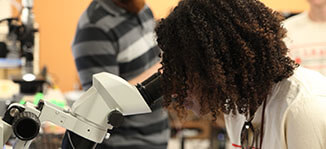 LEARN from faculty and peers in your learning community
Study in an ENVIRONMENT that supports your ACADEMIC success
Gain hands-on RESEARCH experience (other benefits include priority registration and a scholarship)
Build a NETWORK of friends
By working with on-campus partners, both L.E.A.R.N. programs provide a select group of students with an inquiry-based and hands-on educational experience through learning about and conducting research.
2011
F-L.E.A.R.N.TM was founded in 2011
2016
T-L.E.A.R.N.TM was founded in 2016
>3.0
The average GPA of L.E.A.R.N. students is above a 3.0
86%
F-L.E.A.R.N.TM students' graduation rates increase 86%*
119%
L.E.A.R.N. students are graduating from UCF with a STEM degree 119% higher than the matched comparison group
3
3 universities have L.E.A.R.N.TM Programs: Florida Atlantic University, Western Carolina University and University of Central Florida
*All percentages are based on L.E.A.R.N. student data who are compared to a matched comparison group.