Are you thinking about graduate school and aren't sure where to start? AAP's Grad Prep PeerKnights Coaches can help you navigate your next steps towards preparing for graduate school applications. 
Graduate School Preparation PeerKnights Coaches can help you explore and prepare for graduate school. Appointments are available in-person and virtually. For more information or to meet your PeerKnights Coaches, visit https://academicsuccess.ucf.edu/peerknights/
Fall 2023 Appointment Availability

Monday
9:00AM – 4:00PM
Tuesday

10:00AM – 1:00PM

Wednesday

10:00AM – 1:00PM

 
 
 
 
Schedule Your Appointment
UCF Students
Access your myUCF portal and myKnightSTAR
Log in to your myUCF account using your NID and NID password.
Select Student Self Services
Select myKnightSTAR at the bottom of the drop down under Student Self Services
Click on the blue Get Assistance Button to begin scheduling your appointment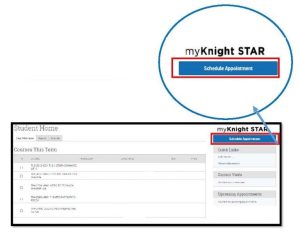 Select an Appointment
Peer Support Programs as the type of appointment
AAP – Grad Prep Advising (Peer) as the option

Pick your Date

, then click Find Available Time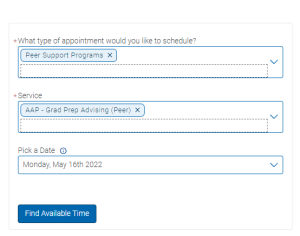 View and Select Appointment Availabilities
Using the calendar, select the preferred date and time of day (morning or afternoon)
Then, click the specific time slot for the appointment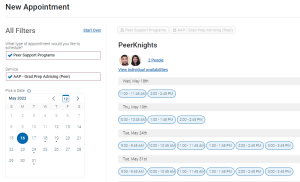 Review Appointment Details and Confirm
Lastly, answer the remain questions.
Click Schedule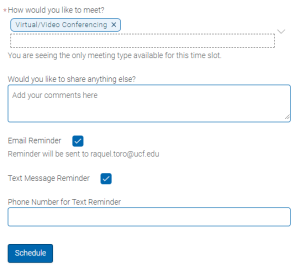 Non-UCF Students
Note: 
To schedule your appointment with a particular Pre-Grad Coach and AAP Staff, please email
AAPAdvising@ucf.edu
to inquire about the hours scheduled for the week. Then, schedule your appointment during their hours.