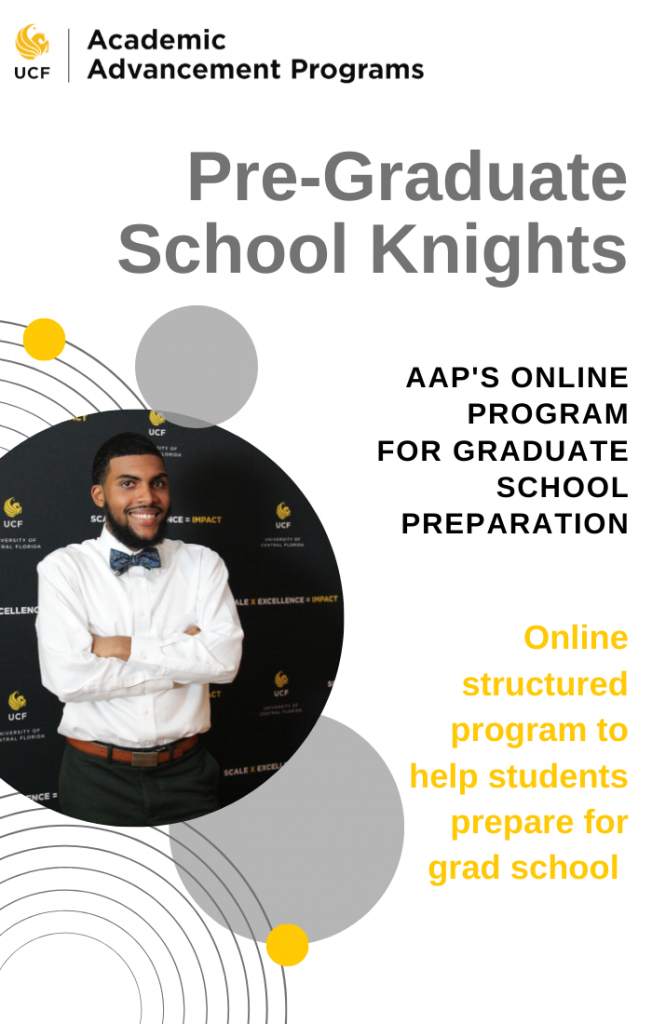 Pre-Graduate School Knights was developed to provide guidance and support t

o UCF undergraduate students who are interested in pursuing graduate school but do not fit the criteria of the RAMP or McNair Programs. 
Students who choose to become part of this program do not receive financial compensation for their participation, but can access online resources, meet with AAP staff members, and take part in activities designed by AAP. 
Interested students can click the button to the left to fill out the interest form or email aap@ucf.edu to meet with an AAP staff member to discuss their fit for the program.
Pre-Graduate School Knights Requirements
This is a self-­directed program that allows you to select the assignments you need to complete in order to become a stronger candidate for graduate school. You will complete 10 assignments that you choose in order to complete the program. You will have 2 semesters to complete the 10 assignments. Read through the rest of the program requirements below.
Requirements
Complete the online Pre-­Grad Knights Orientation
Complete Pre-­Grad Knights online Pre-Assessment
Schedule and Complete at least two meetings with a graduate school peer advisor
Choose and Submit 10 Assignments in the associated assignment.
Complete the Pre-Grad Knights Post-Assessment
Submit that you have completed all 10 Assignments
Eligibility
Part-­time or Full-­time Undergraduate Student at University of Central Florida
Minimum Cumulative GPA of 2.0 and in good standing with the University
Benefits
Pre-Graduate School Knights Certificate of Completion
Designation as an AAP Scholar within Academic Advancement Programs
Invitation to Participate in Selective AAP Programs only open to AAP Scholars and selective partners
Priority Registration to participate in the Graduate School Prep Academy/Intensive
Priority Registration to participate in Graduate School Fairs
Pre-­Graduate Scholar Graduation Chord