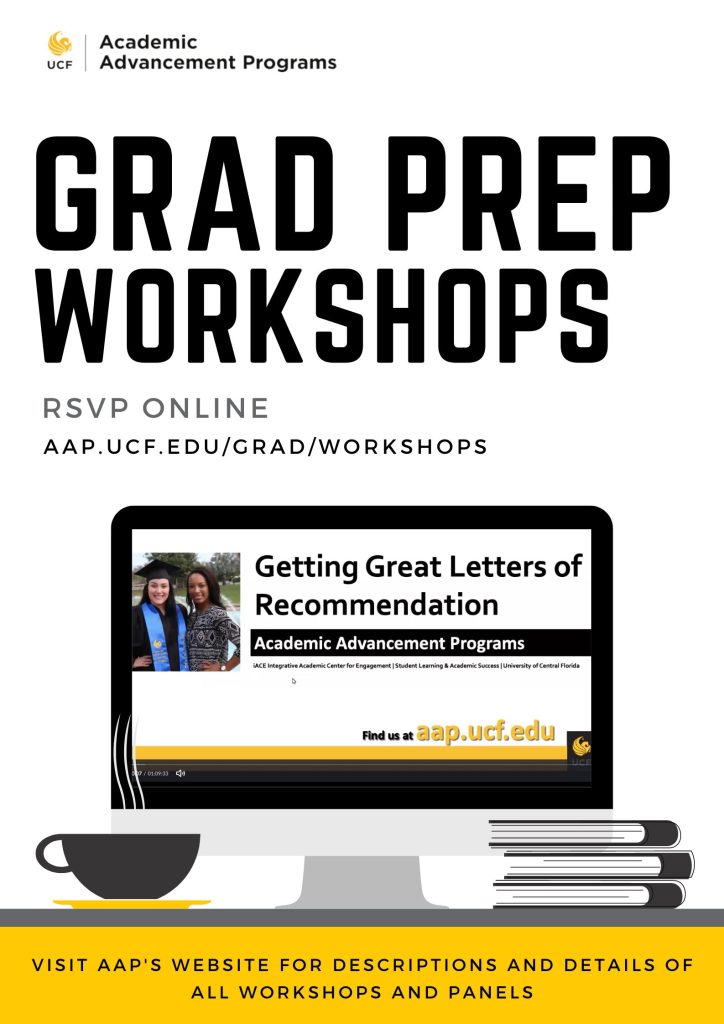 We ask that you RSVP for each workshop you would like to attend. 
Please note: 
Students who are looking to receive credit for AAP workshops MUST attend at least 90% of the workshop.
Once you sign up, an email will be sent to you with more information to participate in AAP's workshop.
Please sign up with your Knights email at least 24 hours before each workshop.
RSVP
for AAP's Semester Workshops
Attend Join Academic Advancement Programs for a great opportunity to meet staff, learn about AAP structured programs, graduate school preparation resources, and much more!
Tuesday, June 27th
12:00 PM
Virtual Session
McNair & RAMP Info Sessions
Attend an info session to learn more  AAP's structured programs, and talk to students about their experience in the program.

The McNair Scholars program, as part of the U.S. Department of Education funded TRIO Programs, guides first-generation and low-income and/or underrepresented students into Ph.D. programs, and provides funding to help with that process. 

The Research and Mentoring Program offers an enriching educational experience for students from underrepresented groups and first generation/low income students, to excel as undergraduates, and succeed in graduate school.
Wednesday, June 7th
2:00 PM
Virtual RAMP Info Session
Wednesday, March 28th
12:00 PM
Virtual McNair Session
Wednesday, July 26th
12:00 PM
In-Person - TCH 201
RAMP & McNair Info Session
Become a Competitive Grad School Applicant
What do I need to prepare for a graduate school application? Academic Advancement Programs (AAP) gives an overview of the pieces of a competitive graduate school applicant. Usually, students with 0-60 credits gain the most from this workshop, as they learn how to build towards a competitive application.
Tuesday, July 18th,
12:00 PM
Virtual Session
What is Grad School & Why Apply?
Not sure where to start in preparing for graduate school or what the difference is between a master's or a PhD? this presentation defines graduate school and where your career and academic goals meet. This is  perfect start to your journey for graduate school preparation. 
Friday, June 9th,
11:00 AM
Virtual Session
Getting Great Letters of Recommendation
How do you know if the relationships you've built with your faculty will turn into great letters of recommendation? This Academic Advancement Programs (AAP) workshop will break down the steps needed to ensure your letters of recommendation are strong for graduate school applications.
Thursday, June 15th,
12:00 PM
Virtual Session
The Graduate School Application Process
For students who are 1-2 semesters from applying, get the details from Academic Advancement Programs (AAP) on the application process for graduate school. You'll be able to fully prepare for the application process after this session.
Tuesday, June 14th,
12:00 PM
Virtual Session
Monday, July 11th,
12:00 PM
In-Person Session
TCH 201
Getting to Know your Faculty & Networking
This workshop will guide students on the importance of building strong relationships with their professors and establishing a network within their academic community and professional discipline. Through interactive activities and discussions, participants will learn effective communication strategies, how to approach professors for mentorship and opportunities, and networking tips to expand opportunities within their field of study.
Thursday, July 6th,
11:00 AM
Virtual Session
Graduate Student Panel - Applying to and Succeeding in Grad School
Have you ever wondered how students with graduate degree manage to successfully apply to and thrive in graduate school? Ask questions and listen to a panel of graduate students discuss their experiences.  You'll learn how they juggled their classes with applications, discover how they learned from their mistakes, and gain insight on what they knew (or wish they knew) that helped them thrive through the graduate school application process.
If UCF students need captioning access or other accommodation in order to participate in any AAP virtual event, please contact (aap@ucf.edu). At least 48 hours' notice best assures that we can coordinate necessary access. 
Check Out Other AAP Workshops