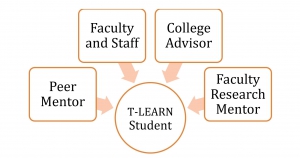 T- L.E.A.R.N. students will have various mentors during their time in the program. Each student will be assigned a PeerKnight who is an upper-level student involved in research. Through monthly meetings with their PeerKnight, students will receive assistance in their transition to UCF, first-hand suggestions for time management and class scheduling, and someone to talk to who is excited about research too!
T-L.E.A.R.N. students will benefit from faculty mentorship. When the student finds a faculty mentor for a research position in the late fall or early spring semester, they can offer invaluable advice on graduate education, research experience, and possible insight into future careers.
T-L.E.A.R.N. students will benefit from faculty and staff mentoring. This includes the Program Coordinator and Instructor, Dr. Mary Tripp, partner and Co-Principal Investigator, Mr. Michael Aldarondo-Jefferies and Principal Investigator, Dr. Kimberly Schneider.