The Significance of Living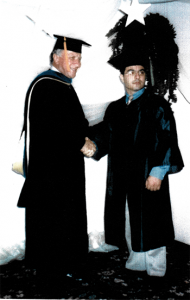 What is the significance of living? It could be different things for different people; all walks of life have different reasons for being "here." However, transcendence is only a feature of one.
I was 33 years old when I met Dr. Berringer. As a child, I immigrated into the U.S. My experience in this country was very typical of many immigrants. While enjoying and reaping the wonderful benefits of the land of the free, I also encountered resistance, prejudice, alienation, and difficult times adjusting to the new land. I was married with a family of two kids, ages 4 and 5. Needless to say, I wasn't your typical or prime candidate to succeed, let alone become a doctor. It was a long shot, a miracle attempt on my part, an arduous endeavor! Perhaps it was just a personal, stubborn and selfish pursuit on my part.
It was a Friday late in the day, last appointment of the day when I met him. I expected the typical behavior of any person with an office job to rush me away because the weekend had begun. The three of us, that is my two girls and me, waited patiently to see the counselor.
Susie allowed me through. I told the girls to wait for me outside the office. I approached the doctor and introduced myself. He cordially but swiftly acknowledged me, to only follow with "Get your kids in here." He ignored me and proceeded with interviewing them! He asked, "Tell me girls…does your daddy know how to French braid?" They were afraid to answer lest I get in trouble, but did and said, "uh, no?" He turned to me and said, "You want to be a doctor, huh? Fair enough; come back on Monday and make sure you know how to French braid." I went home feeling mesmerized by what had happened and learned how to French braid. This was the first lesson to becoming a doctor.
I returned on Monday to attend my first test of medical school. I passed; "he" was satisfied with the braids. He turned to me and said, "Do not forget them while you're pursuing your dream, is that clear?"
Dr. Berringer overlooked my ethnicity, my present status as a married person with lots of obligations, my financial difficulties, my troubled past, my previous low grades, everything that "we," the normal human beings, get stuck on. Prejudice is not only a race problem; it plagues all aspects of our humanity. He was a man that had no barriers. In the poor he saw someone wealthy, in the bad he saw good, in the troubled he saw clarity.
Two years passed, and as I was applying to dental school, I was faced with a dilemma. I could only apply to one university due to my finances. This meant there was only one chance for me.
It was a Thursday night when I got the letter of denial. I was crushed. I called my mentor and friend and thanked him for all his effort and for trying and for giving me hope. He said to me "Do you know why I let you into my office when I met you?" I said no. "I let you in because of the way you greeted Susie. You were kind to some one you did not expect had bearing on your future. You are a doctor, Diego; don't let anyone tell you otherwise. Sit tight and don't respond to the letter."
The next day in the afternoon about 4:45, I received a call from the University of Florida asking me if I was still interested in attending. Miracle? Yes…the best kind of miracle…the miracle of love. The miracle of when God touches a person to love someone through their shortcomings, of making that special phone call to intercede, of asking for that special favor to make a last plea for help, to influence.
This is transcendence. Dr. Berringer… "Budd"… is transcendent. I say this because he still lives. He lives in my heart and in my prayers. He lives in the decisions I make as a dad and as a doctor. "Will he be pleased with me?" I ask myself. "Will I honor his sacrifice and effort for me?"
My family and I remember, cherish, and thank the day we walked into that office. I know he is looking over us. He is looking over all of the struggling students who pursue dreams without any guidelines or orientation, who study through hunger and fatigue to achieve a dream.
I pray that just by knowing of his existence and by listening to my experience, I can inspire, motivate, and transcend to other students the trust and zeal that "Budd" inspired in me.
God bless Budd,
Dr. Diego Ospina