By Pre-Health Pre-Law Advising | August 31, 2021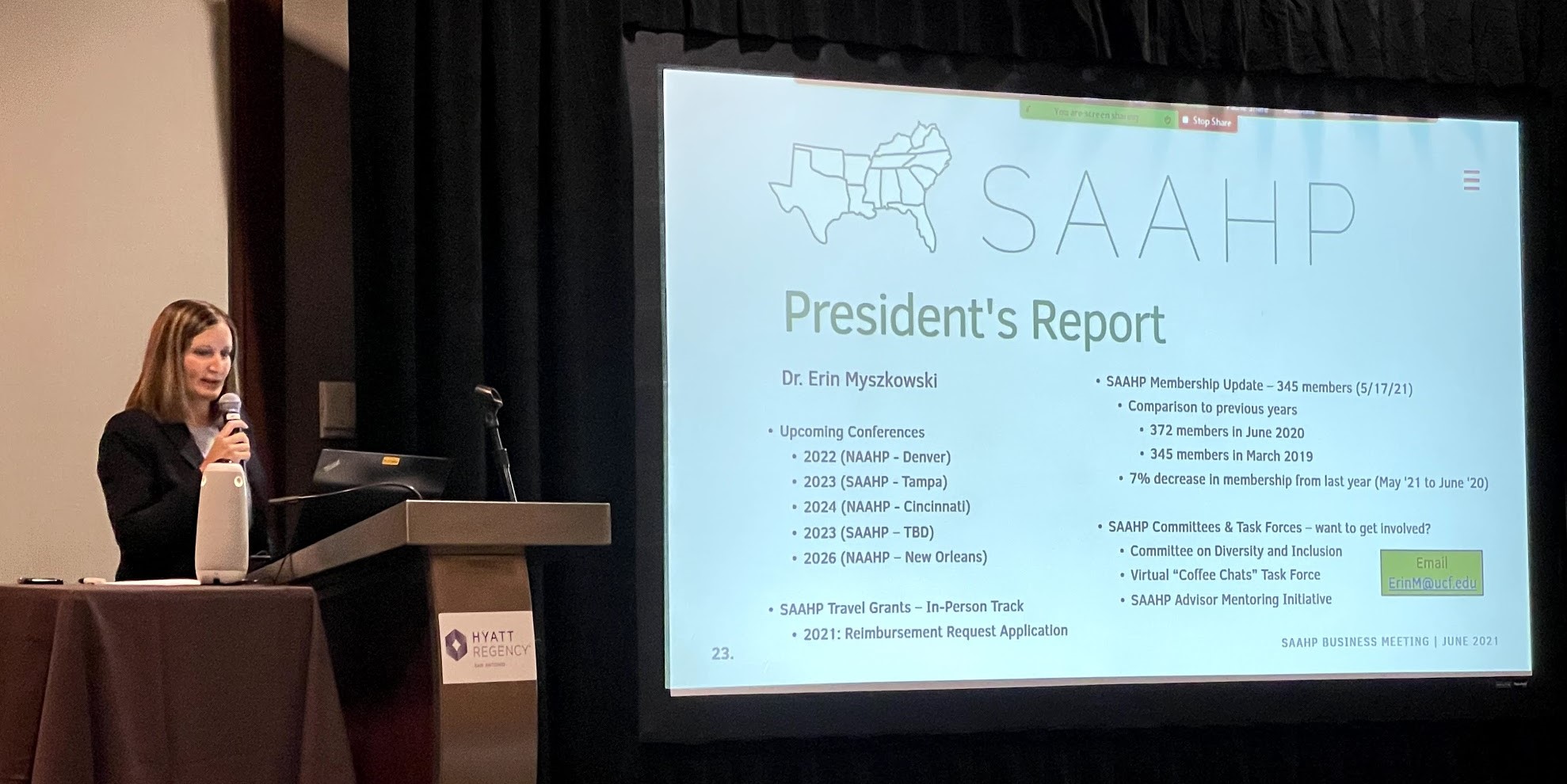 Dr. Erin Myszkowski, Director of Pre-Health and Pre-Law Advising, is bringing recognition to UCF and to UCF's Pre-Health students on the national level. She was elected as the President of the Southeastern Association of Advisors for the Health Professions (SAAHP) in May 2020 and will serve in this role until 2023. SAAHP serves over 350 Pre-Health advisor members and is comprised of colleges and universities in the Southeastern U.S. concerned with the preparation of students for further study in a wide variety of health-related professions, such as medicine, dentistry, pharmacy, and others. Together with three other regional organizations, SAAHP is a part of the National Association of Advisors for the Health Professions (NAAHP).
Dr. Myszkowski was recently the co-chair for the biennial 2021 SAAHP Conference from June 2-5, 2021. The hybrid conference was held both in San Antonio and on a virtual conference platform. The conference consisted of 46 presentations and over 600 Pre-Health advisors, exhibitors, associations, and students attended the on-site and virtual conference. Two of UCF's Pre-Health advisors, Brittany Cunnien and Courtney Martinez, also presented at the 2021 SAAHP Conference.
Dr. Myszkowski will continue to serve both NAAHP and SAAHP on the national and regional levels in the future. She was recently elected to serve as co-chair of the 2024 NAAHP National Conference in Cincinnati which will consist of over 1,500 attendees. Additionally, Dr. Myszkowski is one of only six NAAHP members nationwide to serve on the NAAHP executive committee where she serves as the Secretary for the national association.