By College of Health Professions and Sciences
August 31, 2022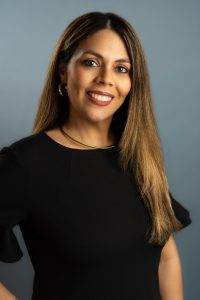 Andrea Velez joins the College of Health Professions and Sciences at UCF as the Director of Academic Advising. Velez possesses over 15 years of experience in higher education, primarily in the field of academic advising. She has worked at various institutions with both undergraduate and graduate student populations.
Her experience in student affairs has allowed her to work closely with various student groups including First Time in College (FTIC), First Generation, Transfer, Re-admits, Athletes, Dual Enrollment, Veterans and so many more within the Florida State College and university systems. Velez understands student needs and how to appropriately assist and advise them of resources and services to support their academic goals, which positively impact student success, retention, and completion.
Prior to joining UCF, Velez served as the Assistant Director of Academic Advising and Counseling at Seminole State College of Florida. In her role, she supervised a multi-campus team of academic advisors across four campuses. In 2017, Velez was selected to be part of the National Community College Hispanic Council Leadership Fellows Program as a rising leader in higher education. She holds a Bachelor of Science degree in Criminal Justice from UCF and a Master of Science in Human Resource Management from Nova Southeastern University.
She is a proud UCF alumna and looks forward to making an impact on student success.