By Jesse Sunski | December 12, 2022
The UCF advising community traveled across the country to attend the NACADA Annual Conference, "Building Bridges: Honoring our Past, Celebrating the Present, and Preparing for the Future," in Portland, Oregon, October 23-26. The twelve-person UCF delegation collectively facilitated six concurrent presentations or panel discussions, while two individuals were recognized at the NACADA Global Awards Ceremony.
Conference Presentations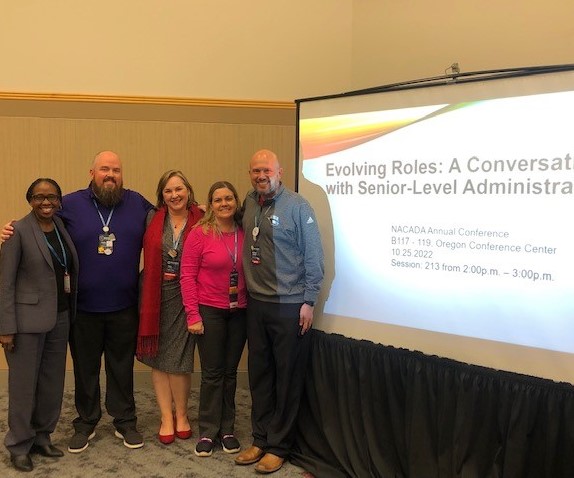 Dr. DeLaine Priest (left) participates in a panel with other senior-level administrators.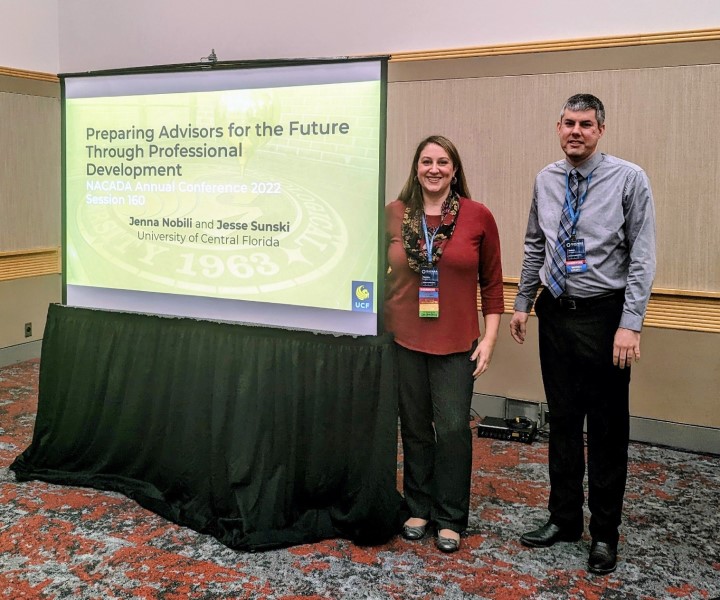 Jenna Nobili (left) and Jesse Sunski (right) present on advisor training and professional development.
The conference presentation topics included presentations on STEM education, advisor professional development, and building a new advising model. Dr. Melissa Dagley and Sarah Evans presented "Investing in Our Future: A Proactive Advising and Retention Program for Student Success." This presentation highlighted the proactive strategies used to promote the retention and graduation of EXCEL program participants. In the "Preparing Advisors for the Future Through Professional Development," Jenna Nobili and Jesse Sunski shared the process behind creating a structured professional development program at UCF and feedback from the first two years. Dr. DeLaine Priest, Dr. Teresa Dorman, and Dr. Delia M. Garcia, in their presentation "Advising Model: Building Bridges for Student Success", highlighted the recent advising model changes at UCF and key stakeholders engaged in making changes happen.
UCF was also represented in three separate panel discussions. Dr. Priest participated in two panels, sharing her insights as a senior-level advising administrator in "Changing Times in Academic Advising: A Discussion With Advising Administrators" and "Evolving Roles: A Conversation With Senior-Level Administrators". Dr. Karen Mottarella, in her role as co-editor of the NACADA Journal, shared recent research into author demographics and article topics, during the "Developing NACADA Journal Authors: Voices From the Field" panel.
Copies of the UCF presentations and select conference favorites are available in the AEP resources (Requires UCF SSO sign-on) folder under the NACADA 2022 Conference sub-folder.
Awards Ceremony
Dr. Amanda Groff, Senior Lecturer & Online Undergraduate Coordinator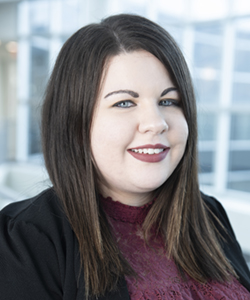 Katy Weilant, Academic Advisor III
At the NACADA Global Awards Ceremony, Dr. Amanda Groff, Department of Anthropology, and Katy Weilant, College of Community Innovation and Education, were recognized as NACADA Global Advising Award recipients. Dr. Groff, UCF's 2021 Excellence in Faculty Academic Advising recipient, was selected as a Winner of the Outstanding Advising Award – Faculty Academic Advising. Weilant, UCF's 2021 Dr. Judith Sindlinger Outstanding New Advisor Award winner, was present at the ceremony to receive the Outstanding New Advising Award – Primary Advising Role Certificate of Merit. Congratulations to Dr. Grofff and Weilant on their recognition.
The Advising Leadership Council (ALC) and the Division of Student Success and Well-Being announced 2022 ALC and Pegasus Award winners at the December 7 Advisor Enhancement Program (AEP) meeting. These winners will represent UCF as 2023 NACADA Global Advising Award nominees.
2023 Annual Conference

The NACADA Annual Conference returns to the east coast for 2023. NACADA Region 4 hosts "Reimagine the Magic of Academic Advising" in Orlando, Florida at the Rosen Shingle Creek resort, October 4-7. Joshua "J.J" Johnson serves as conference co-chair, with others from UCF serving on conference committees. Jenna Nobili and Nina Leonard serve as Concurrent Session co-chairs and Vanessa Blackmon and Edwina Norvelus serve as Entertainment and Hospitality co-chairs.
Opportunities to get involved and other updates will be shared monthly during the spring 2023 AEP meetings. Program proposal submissions for the conference are open now through February 23, 2023.