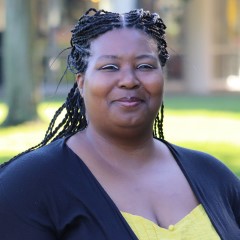 I'm excited to be part of the innovative Academic Advocacy Team here at UCF!
In this role I support students in attaining their graduation goal and in persisting through to each semester.  While pursuing my bachelor's degree, I received support from services on my campus and flourished as a result. My goal as a member of this team is to help students determine and create their academic success at UCF so that they can progress through graduation and into their life goals.
Prior to coming to SSWB, I was a Student Coach and then Success Coach for UCF Online transfer students for 3.5 years. From this work I learned how important it is for students to have someone to help them to strategize for, co-plan for, and co-create their success. I strongly believe that with personal attention, a plan, and the hard work of persistence each student can achieve their own vision of success both in school and in goals beyond our university's doors.
Let's chat and develop your plan together!