Apply for Knights of Distinction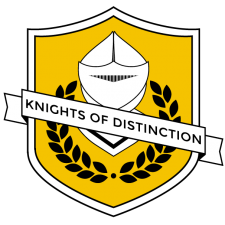 We accept applications on a rolling basis. Apply now!

Degree-seeking undergraduate students who are enrolled in at least 1 academic credit hour of coursework during Fall and Spring semesters and have a cumulative GPA of 2.75 or higher may apply for the Knights of Distinction program.
Applying for the Knights of Distinction program is easy! Simply fill out the online application form available below and submit the required documentation.
You are required to submit the documents listed here with the application form found at the bottom of this page in order to be considered for admission:
1. Personal Statement – Answer the following prompt (350-500 words): One of the primary goals of the Knights of Distinction program is to help students connect the dots between the skills and experiences they learn in the classroom and the skills they develop outside of the classroom. Briefly describe your academic and professional goals. Consider what skills you have and explain what skills you still need to develop to help you achieve those goals.
The personal statement is your chance to show yourself as a well-rounded student and individual. We want to know what you are passionate about. We would also like to know why you would like to be part of the Knights of Distinction program. Our goal as a program is to help you fill any gaps you may have in your resume and help you showcase your achievements by reflecting on them.

What could you include on your personal statement?

Academic background (major and minor, if applicable)
Why you are interested in your career field
Changes in your academic interests such as a change in major
Career goal upon graduation
Extracurricular activities that you are engaged in or would like to get engaged
Experience in trades or other technical fields
Discuss some challenges you have faced in your education
Are you a first-generation college student / student with barriers to education access?
Areas of growth (gaps in resume)
Why you are interested in KoD program
Graduation intention date (Semester/Year)
Other pertinent details you would like us to know about interests and passions
2. Copy of your Degree Audit
3. Completed copy of the Milestone Checklist
4. Resume or CV
5. Graduation intention date (Semester/Year)
We accept applications on a rolling basis! The Knights of Distinction Team will review and evaluate applications throughout the semester. Notification of admittance will be sent to your Knights email address.
Once admitted into the program, you must attend a Knights of Distinction Initial Orientation Session where you will be provided with important information about the program's resources, required assignments, and expectations.
Questions about the application process should be sent to  KnightsofDistinction@ucf.edu.
Apply Now:
Knights of Distinction - Application Form
Fill out your contact information below. Please double check to make sure that the information is correct so that we can contact you if necessary.