Our peer mentors are available to help with any undergraduate research questions. Peer mentoring sessions cover everything from getting started in undergraduate research to current researcher needs such as grants, presenting and publishing. All Peer Mentoring Appointments for OUR will be made through myKnightSTAR. Follow the directions below to make your appointment.
Virtual Appointments
(Zoom)
Monday: 11 a.m. – 2 p.m.
Tuesday: 2 – 4 p.m.
Wednesday: 10:30 – 11:30 a.m.
Thursday: 10:30 – 11:30 a.m.; 3 – 4:30 p.m.
Friday: 2 – 4:30 p.m.
In-Person Appointments
(Trevor Colbourn Hall, Suite 205A)
Monday: coming soon!
Tuesday: 3 – 4 p.m.
Wednesday: 9:30 – 10:30 am.
Thursday: 9:30 – 10:30 am.; 2 – 3 p.m.
Friday: 11:30 a.m. – 12:30 p.m.
1. Log in to your myUCF account using your NID and NID password. 
2. Select Student Self Services
3. Select myKnightSTAR at the bottom of the drop down under Student Self Services
4. Click on the blue Get Assistance Button to begin scheduling your appointment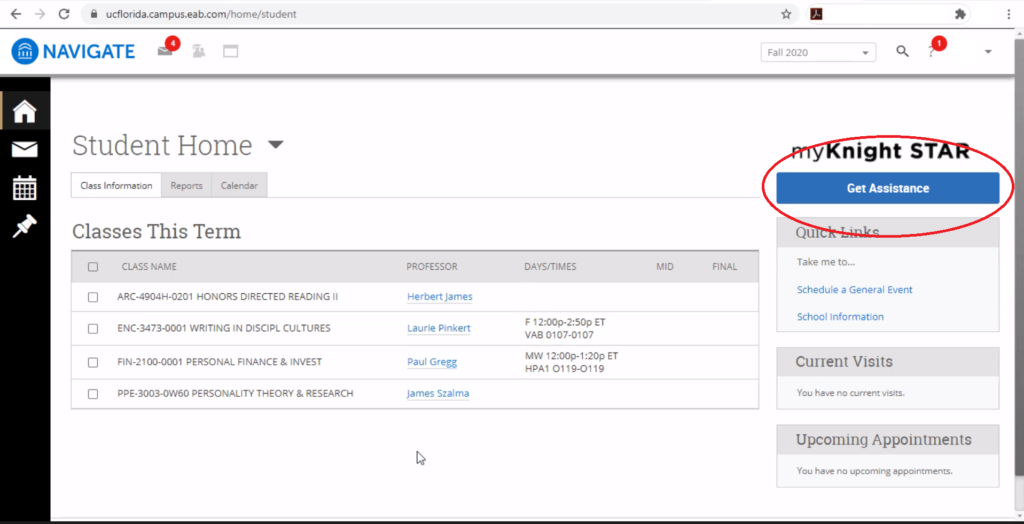 Once on the Get Assistance page, select:
Peer Support Programs

as the type of appointment

Undergraduate Research Peer Mentoring

as the option
Click next
One the next page, select:
HIP HUB

 as the location

Any Staff

to see all availability 
Click next
Viewing and Selecting Appointment Time
Using the calendar, select the preferred date and time of day (morning or afternoon)
Then, select the specific time slot for the appointment
Click next
Once you confirm your appointment, you are good to go. We look forward to talking to your at your Peer Mentoring session!
If you have any questions or issues making a peer mentoring appointment, email our@ucf.edu