Distinguished Undergraduate Researcher Award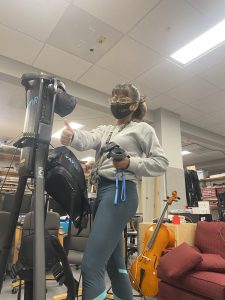 Congratulations to July Distinguished Undergraduate Researcher, Geela Margo Ramos!
Geela's current work focuses on developing a wearable device prototype capable of extracting biomechanical information from a patient in real-time for anxiety attack prediction and analysis of levels of stress experienced. Of her research's goal, she says, "It is my hope for this research to create a system capable of improving current diagnostic and prognostic methods for monitoring anxiety disorders, through quantitative feedback; additionally, such data could be used to improve the current staging model that exists for generalized anxiety disorder."
Geela's advice for students considering research? "Don't be afraid to dive right in! Dipping your toes into the water might not always give the full experience you want in research." She encourages students to find an opportunity where they'll be deeply involved in the design of the research project, and have the opportunity to work on a project from start to finish.
Upcoming Events and Workshops
Summer Undergraduate Research Poster Showcase
Event: Friday, July 30th at  4 p.m.
he Office of Undergraduate Research Invites UCF students, staff, and faculty to the Summer Undergraduate Research Poster Showcase, featuring over 50 research and creative scholarship projects by UCF undergraduates in the SURF program and students conducting research through UCF's NSF REU sites! Join us in conversation with these undergraduate students as they present the research they conducted with UCF faculty over the summer term. 
Learn more about OUR programs, deadlines, and highlights.