Distinguished Undergraduate Researcher Award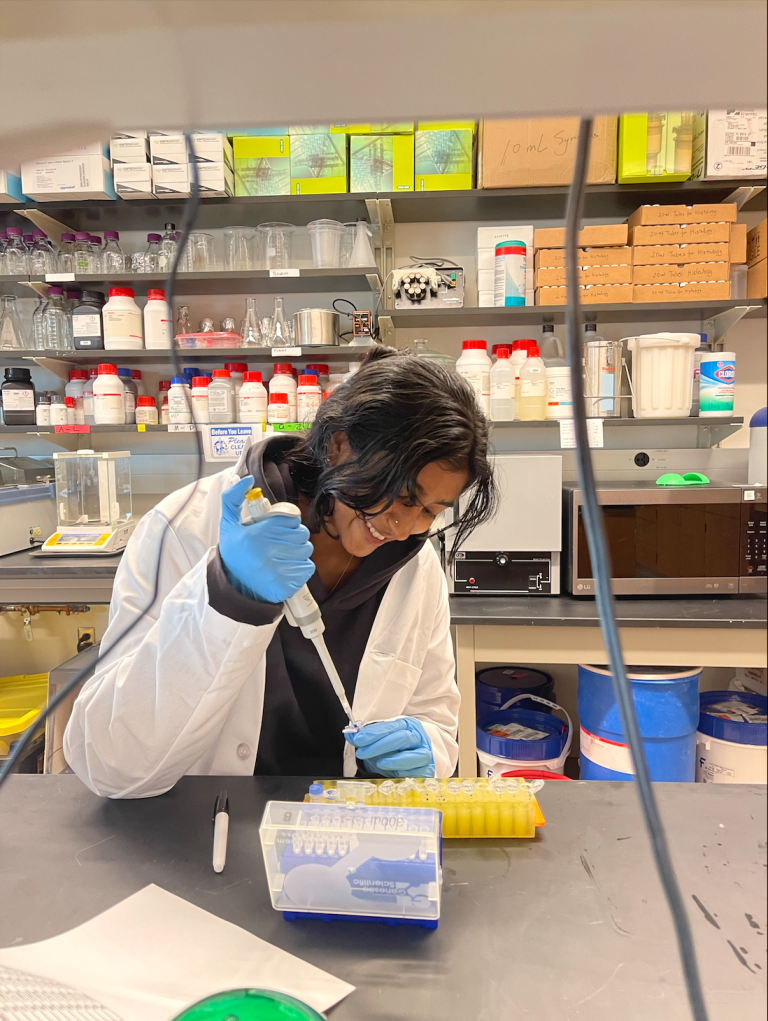 Congratulations

to December Distinguished Undergraduate Researcher, Aishwarya Rajakumar!
Aishwarya's project aims to identify global acetylation changes due to ischemic conditions. In ischemic cardiomyopathy, cardiac muscle gets damaged due to ischemia and the heart loses its ability to pump blood properly, leading to heart failure. Considering the effect of ischemic cardiomyopathy on the global population, it is vital to understand the impact of ischemia on the cardiac cells and how these change different cellular functions through post-translational modifications (PTM) of cellular proteins. Understanding cellular changes due to post translational acetylation modification may help in the design of therapeutic agents against ischemia-mediated heart disease.
Aishwarya got started through an Honors PreMed Research Panel and participates in the Honors program. She advises students to, "start early, look for a subject you are passionate in because you will be spending a lot of time investing in your research. Don't be scared of knowing nothing at first we all start somewhere."
Upcoming Events and Workshops
FURC is one of the nation's largest multi-disciplinary research conferences, and it is open to all undergraduate researchers in the state of Florida to present their research in a poster format. In addition to relevant conference presentation experience, FURC boasts…
Are you interested in learning more about research? Not sure where to start or how to navigate all the programs available? This workshop will discuss how to expand your academic experience through undergraduate research, including how to get started by finding…
Learn the basics of summer off-campus research experiences: What are they? Who can apply? Are these opportunities paid? When do applications open? This session is open to all undergraduates.
Student Scholar Symposium
Apply to present at the Student Scholar Symposium!
The Student Scholar Symposium provides an opportunity for graduate and undergraduate students to present their research and creative scholarship in a poster format to the UCF community during Student Research Week. The 2023 Student Scholar Symposium will be held in person in the UCF Student Union Pegasus Ballroom on March 27-28. Presenters will have access to a variety of opportunities for professional development throughout the week.
Applications are now open and will close on January 30, 2023.
Learn more about OUR programs, deadlines, and highlights.