Upcoming Events and Workshops
During this information session, the editors of UCF's undergraduate research journal will discuss how you can publish undergraduate research and creative scholarship. Participants can expect to learn what it takes to submit an article to a scholarly journal and how…
Are you interested in learning more about research? Not sure where to start or how to navigate all the programs available? This workshop will discuss how to expand your academic experience through undergraduate research, including how to get started by finding…
The Distinguished Undergraduate Researcher Award recognizes outstanding academic research by undergraduates at the University of Central Florida. Apply here: https://ucf.infoready4.com/#competitionDetail/1913402 Each month, a different winner will be recognized through our newsletter and social media. Applications are due in October and…
Distinguished Undergraduate Researcher Award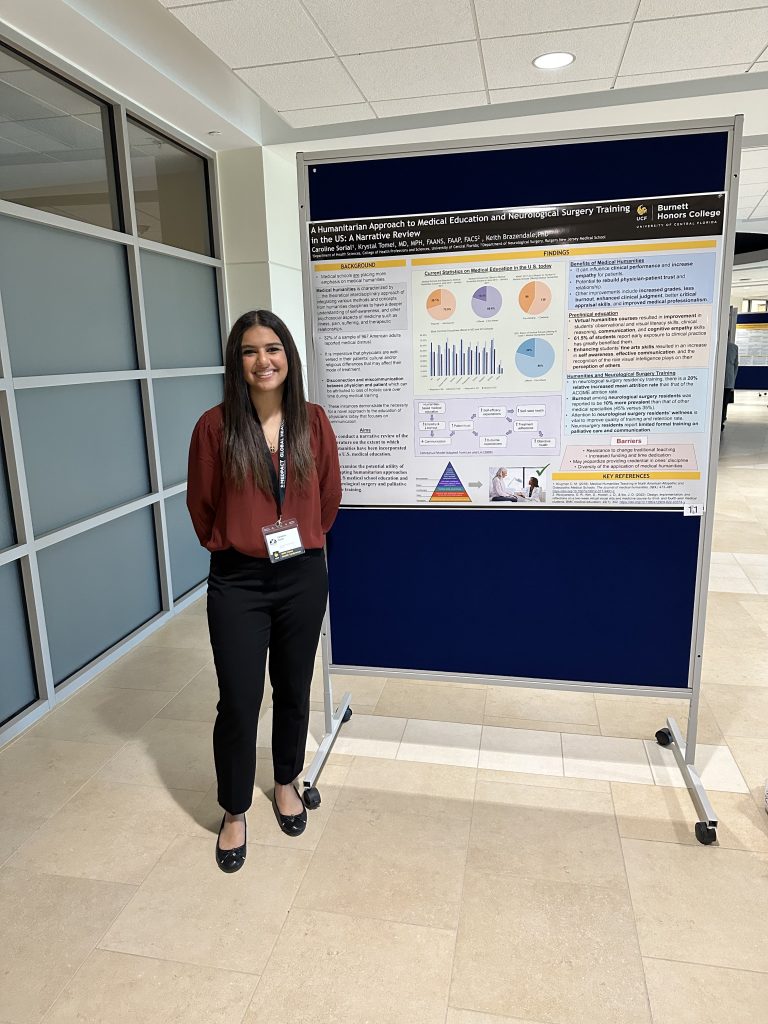 Congratulations to the September Distinguished Undergraduate Researcher Award Winner, Caroline Sorial!
Caroline is working on a narrative review on the extent to which humanities have been incorporated into U.S. medical education and examining the potential utility of adopting humanitarian approaches in U.S. medical school education, cultural competency, and palliative care. Thus far, Caroline found that medical humanities has many benefits including enhanced ability of examining multiple perspectives and improvements in clinical reasoning skills while having no significant effect on students' grades. Because of this, increased incorporation of medical humanities is proposed as a potential solution for increased burnout rates among physicians and medical distrust.
Caroline would advise aspiring undergraduate researchers to take initiative by applying and emailing professors because, "as the saying goes, you lose 100% of the chances you do not take. Many undergraduate students I have spoken to in the past are extremely intimidated by research. But, you do not have to cure cancer … or be the smartest person in the room to contribute valuable information to the scientific community. You just have to solve a problem and have a strong desire to explore potential solutions. You can also always reach out to UCF faculty to help you brainstorm or ask to join a pre-existing research lab in a field you are passionate about. In my personal experience, I have found that the faculty is extremely supportive in helping you pursue your research endeavors and always remember: it never hurts to ask."
The Pegasus Review: UCF Undergraduate Research Journal
Publish your research with the URJ!
The Pegasus Review seeks out article submissions from undergraduate students in all disciplines. Are you willing to turn into a peer-reviewed article your faculty mentored research projects, such as HIM, HUT, poster and conference presentations, independent studies, and more, in a welcoming environment? The Pegasus Review can help you publish your first peer-reviewed article and offers 4 workshops each semester, regular office hours year-round, and scholarships in the summer.  
This is a great opportunity to gain valuable publishing experience, disseminate your research, and strengthen your resume. URJ's articles are downloaded and cited all around the world. Click on the link above to view URJ's submissions and guidelines. Submissions are accepted on a rolling basis after the priority deadline. 
Learn more about OUR programs, deadlines, and highlights.