Distinguished Undergraduate Researcher Award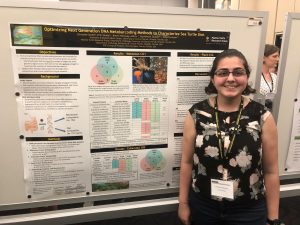 Congratulations to November Distinguished Undergraduate Researcher, Christine Sarkis!
Christine's research is about determining the diet of juvenile green sea turtles (Chelonia mydas) using DNA metabarocoding. This method allows us to target genomic sequences found in the gut contents to determine what the turtles have consumed.
Christine was involved in SURF, EXCEL and presented at the Showcase of Undergraduate Research Excellence.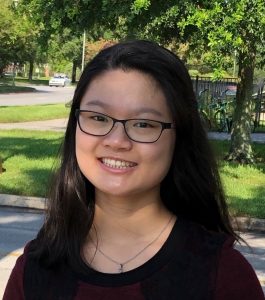 Congratulations to October Distinguished Undergraduate Researcher, Angela Shar!
Angela's research developed an ultrasound-responsive nanobubble for siRNA encapsulation and protection. Following ultrasound induction, the nanobubble grows, expands, and ruptures to safely release encapsulated siRNA into the osteoclasts. In addition, sound waves can regenerate bone tissue, providing a noninvasive procedure and cost-effective treatment. This project establishes the potential of nanotechnology and ultrasound to deliver genes into cells, shedding new light for osteoporosis prevention, a nanoplatform with a far-reaching impact in treating other diseases including cancer. Currently, Angela is working on conducting more in-depth cellular and molecular biology studies with gene expression as well as expanding research to animal studies.
Upcoming Events and Workshops
Acquire skills to write a strong abstract and to synthesize your research or creative work for a presentation. This workshop is ideal for students planning to apply to the Florida Undergraduate Research Conference or the Student Scholar Symposium. All workshops…
Summer Undergraduate Research Fellowship
This fellowship is for students who have not yet had an independent research experience and presented their own work at the Student Scholar Symposium or those who have presented work, but are still involved with their first independent research project.
Learn more about OUR programs, deadlines, and highlights.