Coronavirus Update: During the Summer 2021 Semester, the Office of Undergraduate Research will be offering all of our usual programs and opportunities virtually. OUR is here to help you online or by phone Monday – Friday from 8:30 a.m. – 5p.m. You can contact our office at our@ucf.edu or (407) 823-0101. UCF is sharing more information and updates here.
Distinguished Undergraduate Researcher Award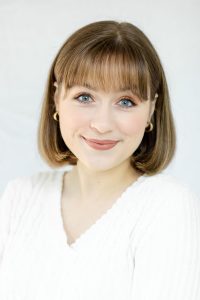 Congratulations to June Distinguished Undergraduate Researcher, Juliet Cahow!
Juliet conducted her Honors Undergraduate Thesis research in Women's Studies with Dr. Anne Bubriski. Juliet's research studies the impacts of gender, racial, and ethnic stereotypes perceived by 30 white, Black, and/or Latinx women (ages 18-22) during their experiences in U.S. public middle schools (grades 6-8). 
When asked about advice she would give students interested in research, she said, "All research is good research! Picking up an array of new skills from a variety of projects was essential to my ability to someday organize a project of my own. You never now what an experience will teach you!"
Upcoming Events and Workshops
Join Tyler Campbell, Assistant Director of Gradatuate Studies, to learn more about using research as a vehicle for planning for post-graduation (graduate school or professional school, or the job market).
Join Aubrey Kuperman, Assistant Director of the Office of Undergraduate Research, to learn more developing the research and professional network that you need to be successful in your next steps.
Join the editors of UCF's undergraduate research journal, The Pegasus Review, to learn about publishing with the journal.*best suited to undergraduates.
Apply for the Summer Research Academy
Deadline: June 1
The Summer Research Academy (SRA) is a 3-day, course-event designed to support UCF undergraduate students, across all majors, who are interested and participating in research and creative scholarship. The Introduction to Research course is designed for students who want to take a deep-dive into exploring and beginning their undergraduate research journey.
Please note that the 2021 SRA will be virtual.
Learn more about OUR programs, deadlines, and highlights.