Have you ever wondered: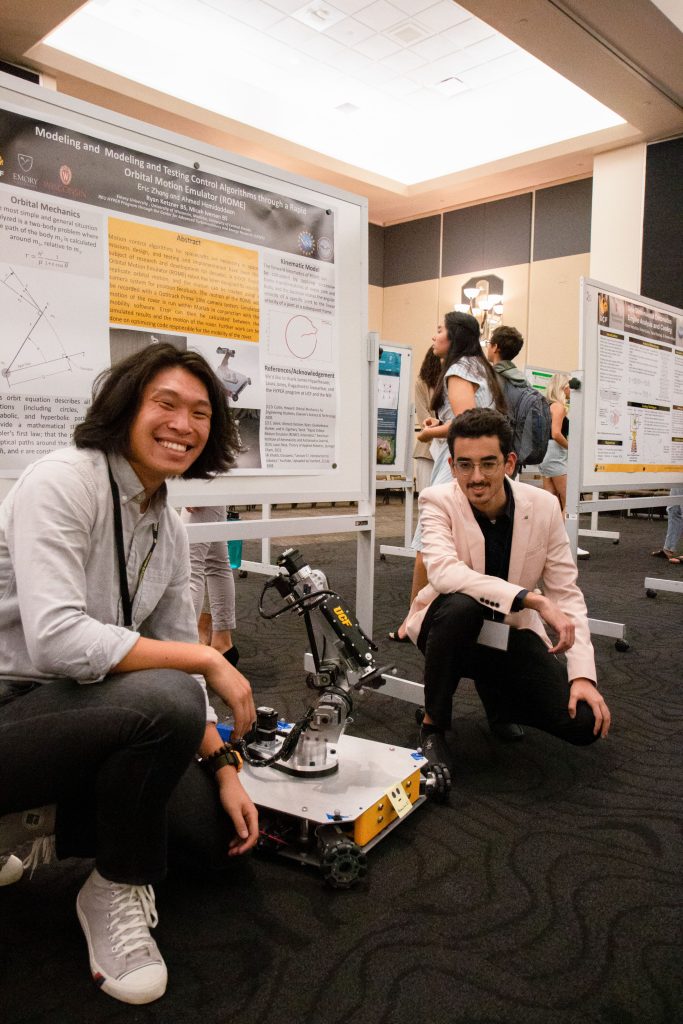 how to grow plants on the moon
about an unsolved mystery involving Civil War veterans' graves in an Orlando graveyard
how to fly five times faster than the speed of sound
how waterproof coatings for boats could make better medical devices
about feral hogs
why so many people are changing their appearances for social media
and much, much more?
Well you are in luck, because undergraduates are working on the answers to all those questions at UCF. We got a glimpse of their results last July, when UCF's Summer Undergraduate Research Fellows and students from 5 National Science Foundation REU (Research Experience for Undergraduates) programs presented their work with research posters. Visitors remarked on the huge range of topics presented, ranging from the depths of the ocean to outer space, and from ancient languages to cutting-edge inventions. The number of topics presented was a testament to the opportunities available for undergraduates at UCF and the breadth of research specialties that UCF can boast: if you are interested in a topic, chances are you can find a UCF faculty member who can help you get started! (For the full program, please see: 2022 Summer Poster Showcase Program.pdf ). And if you want to get started this coming summer with a 2023 Summer Undergraduate Research Fellowship or in an REU at UCF, applications are now open! Just click on the links.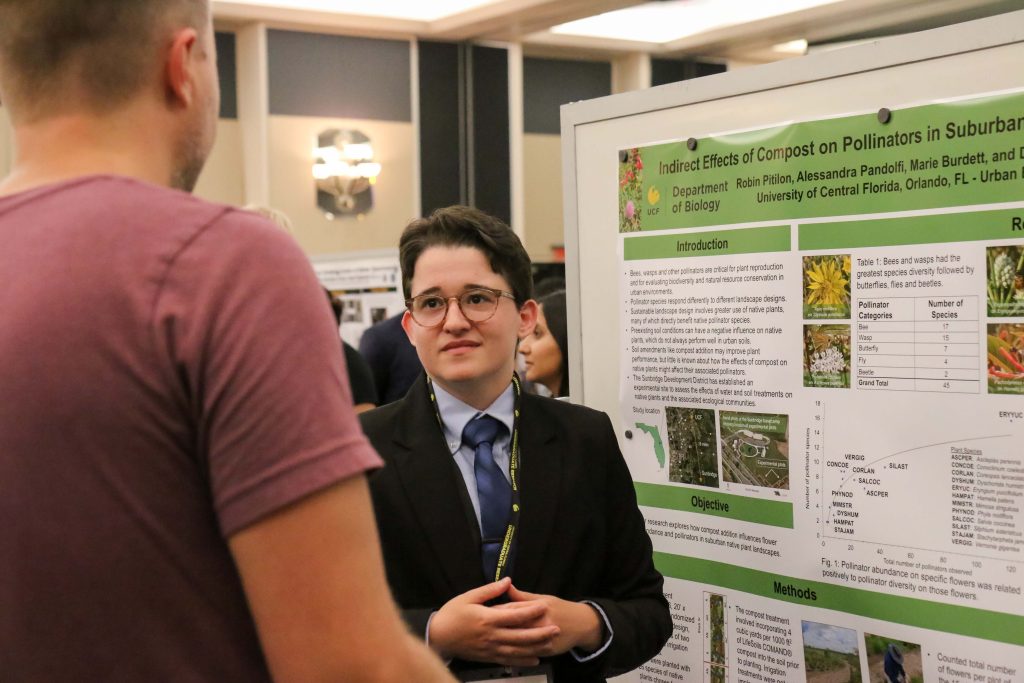 The event was attended by UCF faculty, administrators, and students from the Summer Research Academy (SRA), as well as members of the general public. The Summer Research Academy is geared towards students who have never conducted a research project before, and all the presenters did a tremendous job of explaining their work and inspiring the next cohort of intriguing, inspiring, and communicating with potential researchers. A number of SRA students commented on how the poster showcase helped them understand what undergraduate researchers do and the tremendous things they could achieve, even in a short time.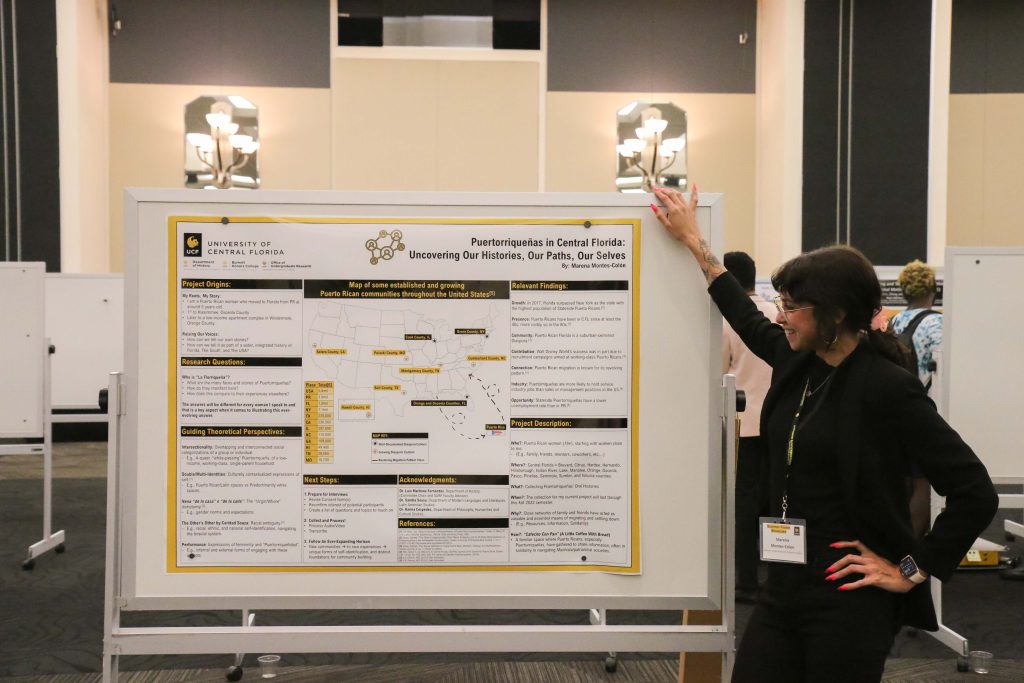 "I loved the poster showcase because I learned a lot about what other students were doing and I got a better idea of what research looks like on the undergrad level. I also enjoyed getting to know other students interested in research because we helped each other in giving research advice and I feel like I have a bigger network of people to help me."

~ Summer Research Academy student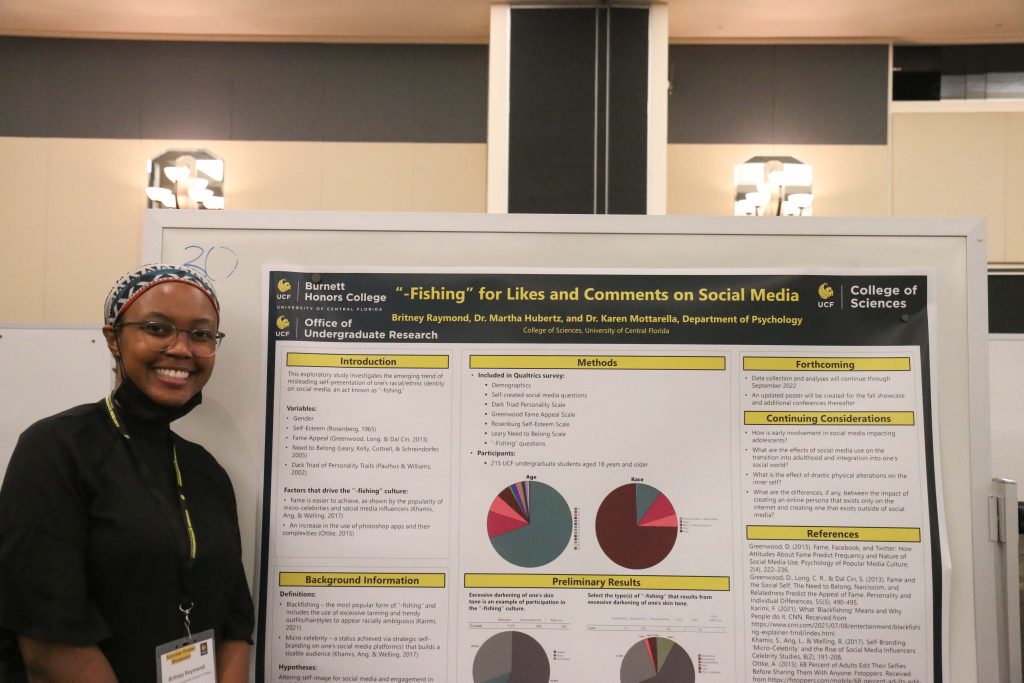 The presenters themselves enjoyed the poster showcase, too. "My favorite experience [of the whole SURF program] would be presenting my research at the Summer Poster Showcase," remarked Summer Undergraduate Research Fellow Jada Strowbridge, who is working on a project about back pain. "I enjoyed articulating my findings to others and explaining why my research efforts are imperative to physical therapy settings/ environments." For a number of the presenters, this was their first time presenting their research, and a few of them mentioned they were nervous about public speaking. However, those nerves faded away when they saw how many people were interested in their research and when they got to share the impacts they are already making in their fields. "As I discussed my research it became a lot easier throughout the evening," noted Stephania Mondragon, who is analyzing the systemic resources that fail to prevent opioid overdoses. Overall, she concluded, presenting was "a great experience!" Many of the presenters were even surprised at how fun presenting your research can be!
"I had a great time at the Poster Presentation and liked getting the opportunity to share my findings with everybody who stopped by my poster. After doing this, I found even more confidence in myself to continue researching and to share it with others."

~Amarilis Henlon (Biology), Summer Undergraduate Research Fellow
We are glad that these students are continuing with their research, because the work they are doing is already producing important results. They are helping to pioneer new water filtration systems, understand deadly diseases like tuberculosis, and develop new batteries and rockets, and solve big social injustices.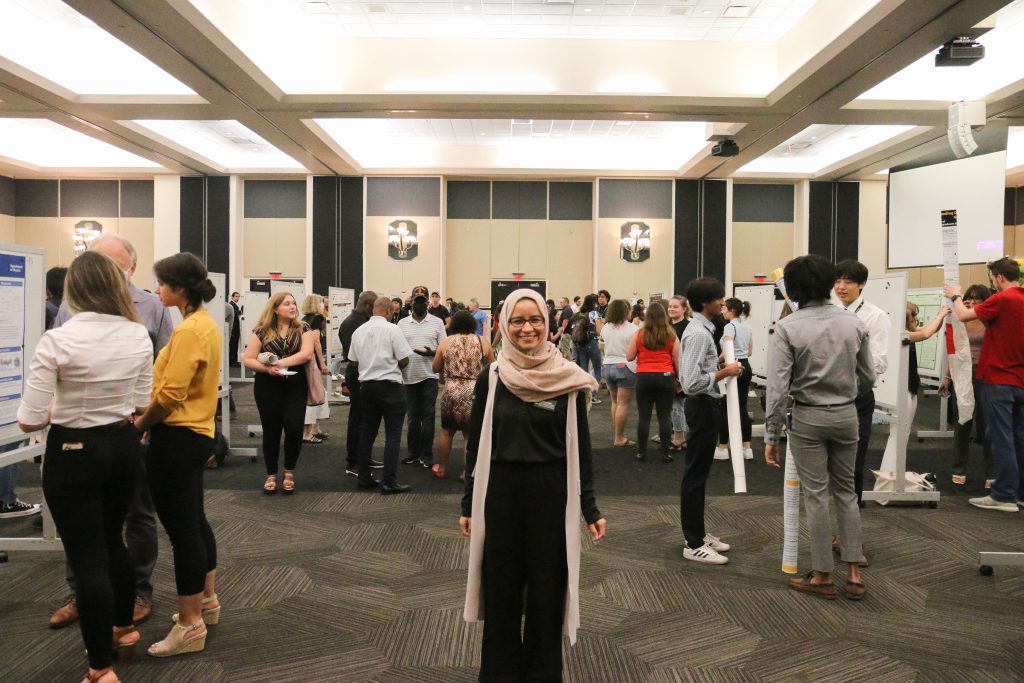 This event would not have been possible without a lot of hard work behind the scenes. Special thanks to Tasnim Mellouli, who led the Summer Undergraduate Research Fellowship program and masterminded the logistics behind the event. Thanks to her, the showcase was a great success and has had a lasting impact on current (and hopefully some future) undergraduate researchers. Research on!
Want to research at UCF this summer? Applications for the 2023 Summer Undergraduate Research Fellowship UCF REUs are now open! Just click on the links.