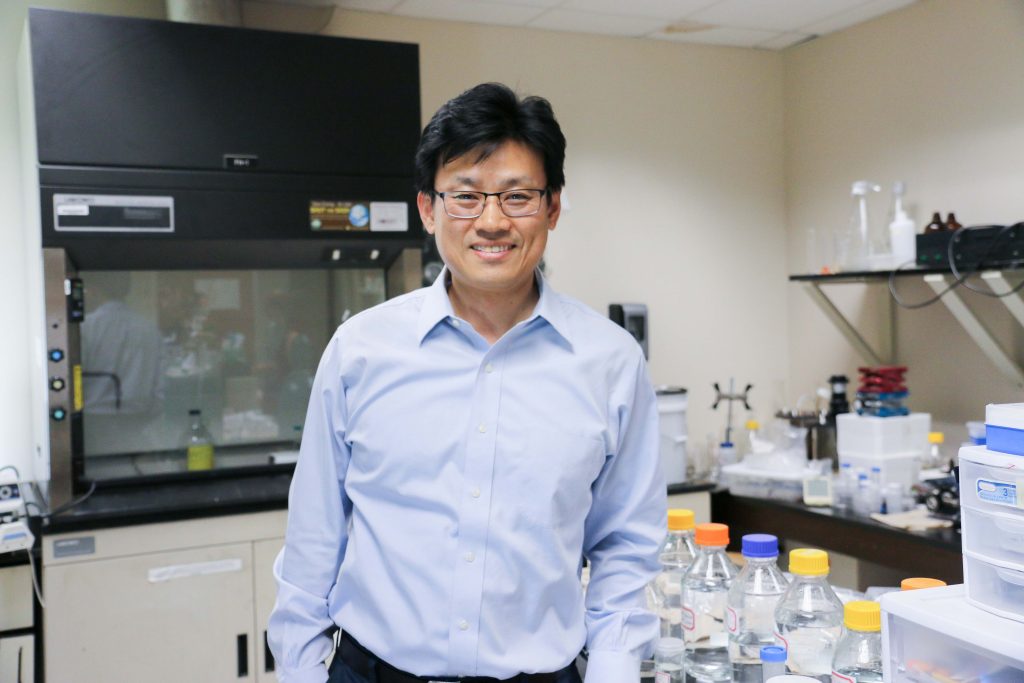 What is the benefit of research experience to students who will pursue careers in industry, rather than in academia? A lot, according to the 37 students who have been mentored by Dr. Woo Hyoung Lee. Many of Dr. Lee's research students will become practicing engineers, as well as those who continue on in academia. He believes that research is essential for them "1) to improve intellectual merit and 2) disseminate findings to societies for broader impact by connecting the research with the real-world solutions for environmental problems." In turn, he draws on his own practical experience as a registered Professional Engineer (PE) to inform his teaching and mentorship.
Dr. Lee's students research a crucial topic with major real-world implications: the smart treatment and management of water and wastewater. This research has received 32 funding awards from the USDA, the Department of Energy, NASA, and many other funding bodies. Currently, undergraduate and graduate students in his lab have been developing we have been developing a biopolymer-based simple lead check which can detect traces of lead (Pb) in tap water, on site. This work is supported by U.S. EPA (7/1/2020 – 6/30/2023). Dr. Lee always seeks to help his students to "understand how their skills apply in the larger world." He emphasizes skills that will help students design solutions for urgent existing and emerging environmental problems.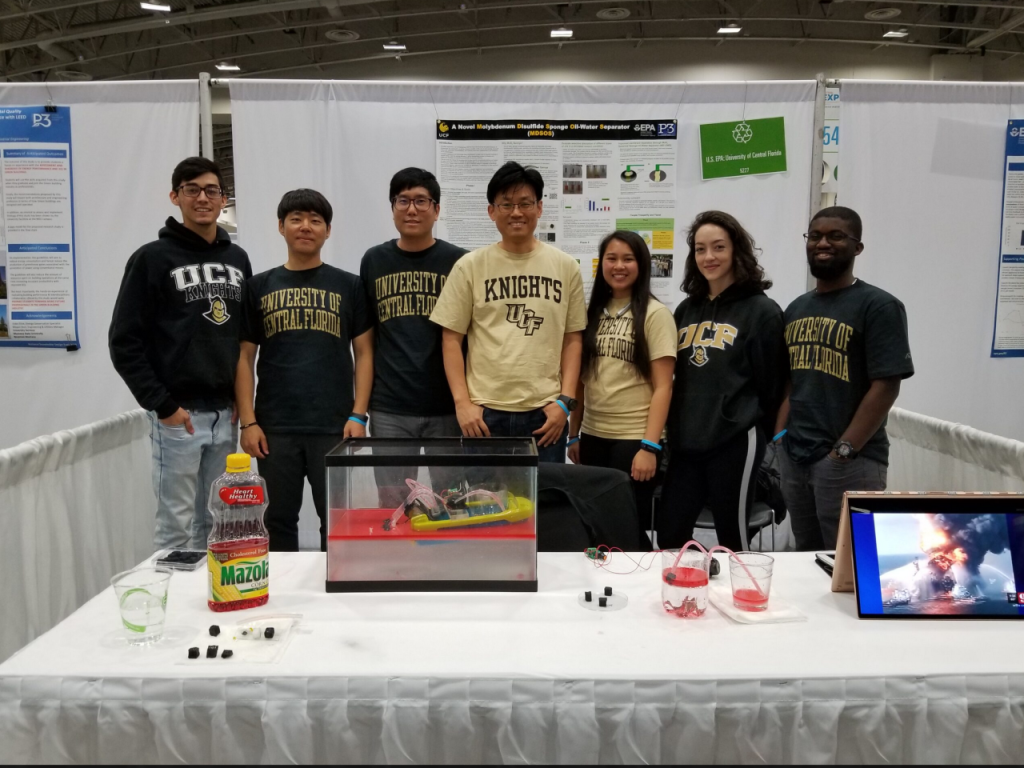 This mentorship philosophy has helped Dr. Lee's students to achieve great success, both in terms of traditional academic outputs and in design competitions. Dr. Lee's undergraduate researchers have been listed as authors on seven papers in leading journals (including two which made the cover of Analytical Chemistry and Micromachines) and given many conference presentations. They have also received multiple design awards from the U.S. Environmental Protection Agency's P3 "People, Prosperity, and the Planet" competition. The team additionally received a sustainable energy award at the USA Science and Engineering Festival in Washington DC, the nation's largest science festival. His students have reflected that "It is an incredible feeling knowing that people see a lot of value in our research and know
that this is something that can help people and the environment." New students were amazed at how far their projects had come and how, through research, they were able to contribute to real-world solutions: "It was my first ever project in this research group and I loved it, I wanted to support innovative answers to real-world problems." Another noted, "The team and the project itself truly reflect the spirit of the University, with people from many different backgrounds and majors coming together to create a novel, interdisciplinary answer to a major problem. I still can't believe how far the team has come since the Phase I proposal, and I can't wait to see where we can go in the future."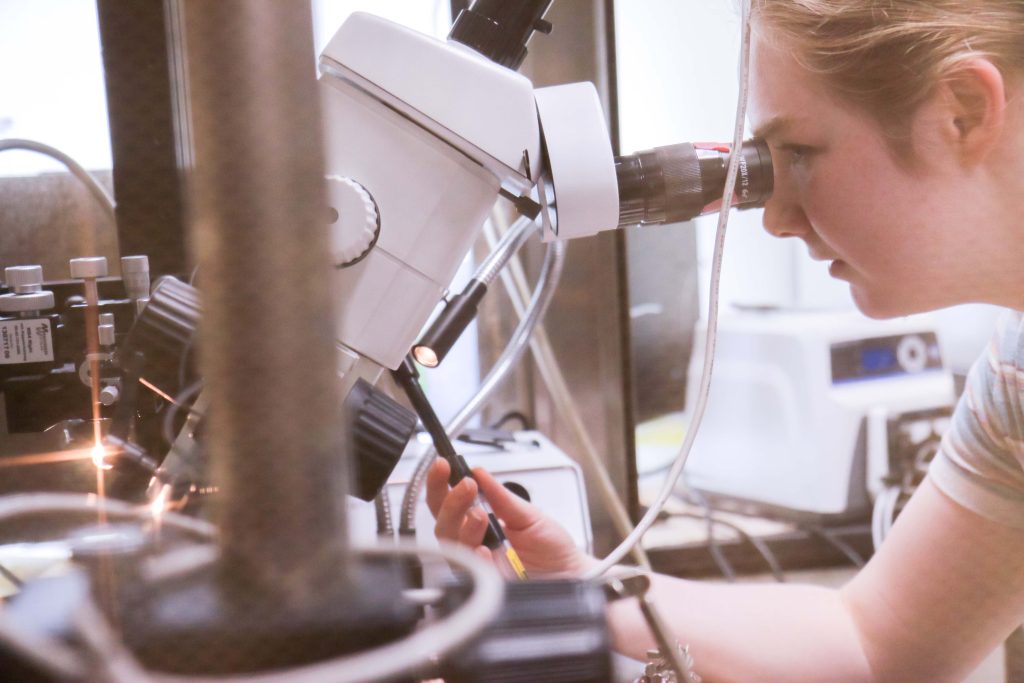 Dr. Lee is not someone who is content to rest on his laurels as a mentor, though! He is always learning, participating in FCTL workshops and Summer Faculty Development Conference, and National Center for Faculty Development & Diversity Bootcamp to improve his skills as a mentor and instructor. Similarly, he helps his students take advantage of the great resources available at UCF: his students have participated in the Research and Mentoring (RAMP) and EXCEL-COMPASS programs, held Summer Undergraduate Research Fellowships, and won monetary awards at the American Society of Civil Engineers (ASCE) East Central Branch Environmental & Water Resources Institute and American Membrane Technology Association (AMTA) Undergraduate Research fellowship. They also received the Burnett Research Scholars Grant, ACS Division of Environmental Chemistry Undergraduate Award, and Judge's Choice winner at the Showcase of Undergraduate Research Excellence (SURE). Dr. Lee reflects, "I always like to encourage each of my students to expand their knowledge boundaries when pursuing their goals in engineering in order to prepare them for their future careers." So next time you enjoy clean water, remember: the engineers who helped provide it may have been trained via undergraduate research!
Dr. Lee's Tips for Undergraduate Researchers:
UCF provides excellent interdisciplinary research opportunities like Smart Cities as well as many undergraduate scholarships. I suggest studying faculty research areas at UCF, starting from your department and faculty website, and finding out the research topic you would like to be involved in. Then, reach out to them by email with scientific questions and your motivations. We, as principal investigators, are always looking for highly motivated students like you for projects supported by diverse funding agencies such as federal agencies and national research laboratories.
Dr Lee's Tips for Mentors
Reach out to students in the classrooms and engage them with recent research trends and advances in science and technology development to show how the fundamentals that they learn in classrooms can be used and applied to the real world. Do not limit the outreach to department courses. Participating as guest lecturers in other departments such as the chemistry department can often provide communication with students who have a strong background in chemistry. Collaboration with other disciplines is one of the keys to success.
---