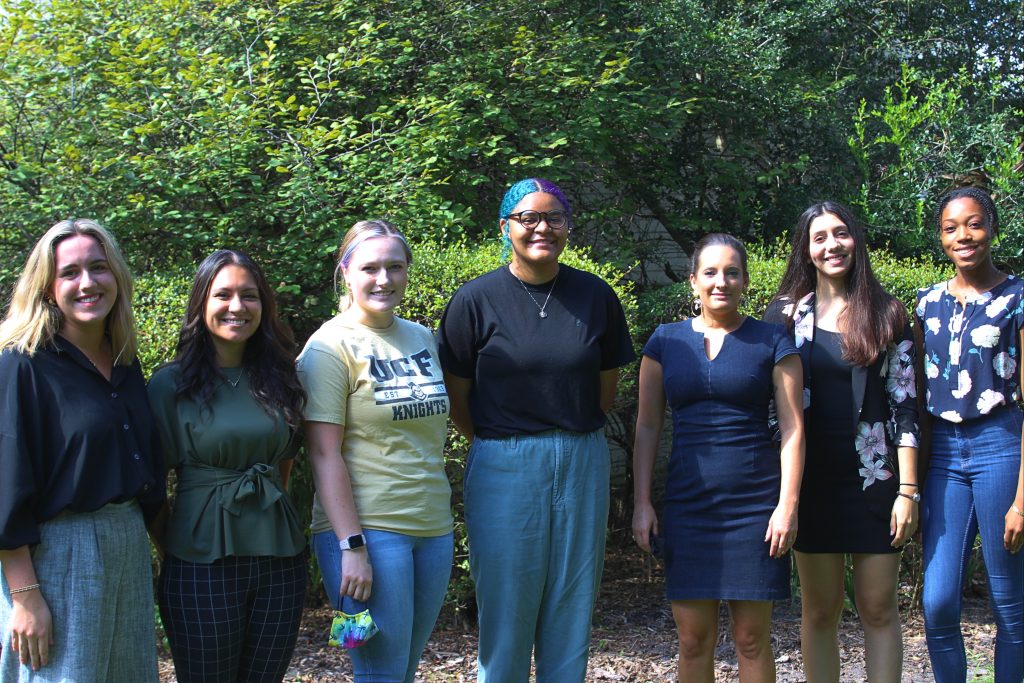 How can you prevent violence? That fundamental question has dogged all human societies and it is one of the key questions that Dr. Jacqueline Woerner, a professor in the Departments of Sociology and Psychology, is trying to answer. She directs the Social Theory, Relationships, and Interpersonal Violence Exposure (STRIVE) Lab and is a faculty mentor in the Substance Use Research Group (SURG), as well as a member of the Violence Against Women (VAW) research cluster.
Helping Dr. Woerner solve these important conundrums are a number of undergraduate researchers who work in her lab. Students in Dr. Woerner's lab are collaborating on a variety of projects, such as investigating links between alcohol and sexual violence among men who have sex with men, understanding why some people become aggressive after sexual or romantic rejection, how expectancies about the effects of alcohol and cannabis impact sexual decision making, and how different forms of social support can buffer the effects of discrimination on health risk behaviors among individuals holding multiple marginalized identities. "I view undergraduate researchers as equal contributors to the lab with unique perspectives," she says. Currently, she has eight undergraduate research assistants. Each is paired with a graduate student, who can offer further individual mentorship. Together, Dr. Woerner and her researchers all participate in biweekly lab meetings. At these meetings, Dr. Woerner and her team plan research projects, discuss professional development topics (such as networking and conferences), and consider how to best uphold the values of diversity, inclusion, and equity in their lab. Undergraduate researchers are also invited to the SURG meetings where four Psychology labs collaborate on research related to substance use.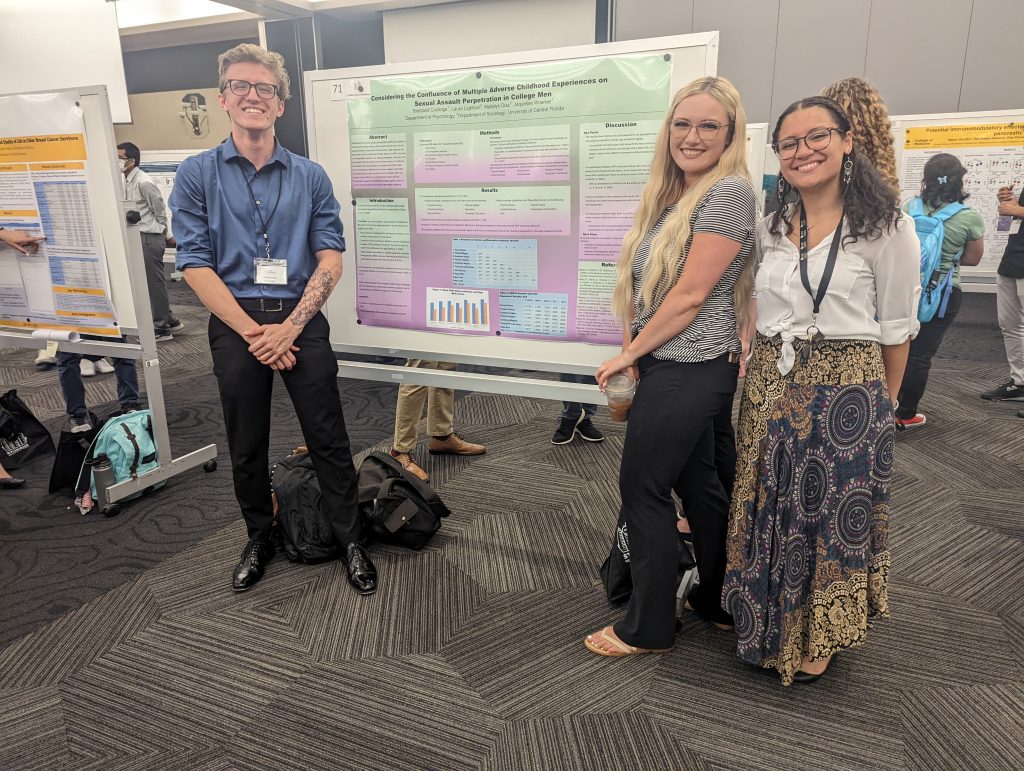 Through meetings and labwork, Dr. Woerner's undergraduate researchers learn about research ethics, survey design, and cultural sensitivity. They then develop their own surveys and projects. Her students have been first authors on peer-reviewed articles and conference presentations on sexual violence and dating apps, and on childhood abuse and assault perpetration in college age men. Several students have won awards for their work too. For example, Brettland Coolidge won a UCF Student Scholar Symposium Judges' Choice Award in the Arts, Social Sciences, and Humanities category, Samantha Echevarria won the UCF Founders' Day Outstanding Honors Undergraduate Thesis Award, and Anais Toussaint won a Diversity Undergraduate Travel Award for the Society for Social and Personality Psychology (SPSP) 2023 annual conference.
Dr. Woerner values students as whole people, not just for the impressive work they produce. During the height of the pandemic, she prioritized flexibility. She provided both virtual and hybrid options for lab meetings and used online data collection. She gave students time off for self-care and tailored her mentorship "to ensure both students' health and success."
These teaching methods have had a huge impact on the lives of young researchers. One of Dr. Woerner's mentees remarked, "You have forever changed my life and I will be forever grateful to have met you…[I] couldn't have asked for a better mentor."
Dr. Woerner's top tips for undergraduate researchers:
Dr. Woerner and other faculty mentors in Psychology and Sociology are extremely invested in students' success and provide tailored mentorship to help students attain their professional goals. If you are interested in getting involved in research, some of the most common qualities faculty look for in potential research assistants are passion, motivation, and commitment.
---