Ever wonder what it's like to be on the Student Undergraduate Research Council (SURC)? We asked a few of this year's members to share their thoughts! SURC promotes undergraduate research for students at UCF. Students on the council are the ambassadors for Undergraduate Research across campus. SURC members who complete at least 15 hours of service and are in good standing with the council are eligible for up to $300 in research funding.
What are the benefits of being on SURC?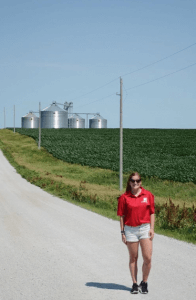 There are many benefits to becoming a SURC member, from professional development, to financial support, and community building. Kennedy, an English senior and current SURC member, said that she joined because many majors are underrepresented in research at UCF, and she wanted to "encourage and educate" her peers from those majors about the many research opportunities offered to all undergraduate students.
Most SURC members say the benefits also include an increased knowledge of research and a boost in confidence. Thanks to being a SURC member, Ariella, a Biomedical Sciences senior, now considers herself a "proficient public speaker." SURC affords students the opportunity to interact with other undergraduate researchers outside of their own field which often helps students grow in their understanding of research.
Lianne, a Civil Engineering senior, shared that "being able to gain the confidence skills to talk in front of a classroom about Undergraduate Research as well sharing my research experiences at workshops and tabling events has been a great asset before I start graduate school in the fall."
Outside of personal development, another benefit students experience on the council is the close relationships developed with fellow students and staff. Lianne enjoys promoting the many opportunities OUR provides to undergraduate students because she "would not be attending [her] top choice for graduate school this upcoming fall without the fantastic support [she has] had throughout the years." Ariella says that "my res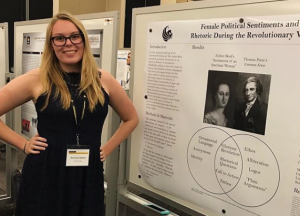 earch experience during my time at UCF has had its ups and downs and I'm not sure I would have been able to get through the downs as well as I have without the OUR staff's support."
The financial support that SURC members receive also helps council members to conduct and present their own research. Kennedy used her SURC reward funds to present at the National Conference on Undergraduate Research this year.
So what does SURC do?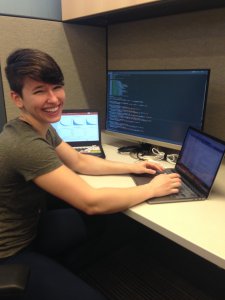 Members of SURC attend monthly meetings, log 15 hours a semester for tabling or speaking engagements, and work with Undergraduate Research staff to improve and expand initiatives for undergraduate researchers. They advise Undergraduate Research on programming and other efforts, and work as a team to develop, strengthen, and expand undergraduate research awareness at UCF.
Ariella says that "SURC is an excellent opportunity for students interested in gaining leadership skills [and] confidence in presenting in front of the audience." It affords you the opportunity to "inspire other students to discover or continue the research path and give back."
Apply today and join our SURC team for the 2019 – 2020 school year. The application deadline for SURC is coming up on April 12th, so now is the time to think about your next steps in research and leadership. Applicants must not graduate prior to Spring 2020 and be able to attend an orientation on Wednesday, May 1st. More information about eligibility can be found Here.